(PHOTOS BY RICH HARDING, STAFF)
---
By: Rebecca Miller
Beauty pageant…just the words bring up all sorts of pictures for every generation. For 28 young girls of Montpelier and Pioneer, Ohio, on the evening of June 26, 2021, those words meant a long, fun evening of competition that ended in smiles for some and tears for others.
For four hours, the girls paraded across the stage for each portion of the event, gathering points toward winning. All were beautiful, some were adorable and some were delightful.
The little ones didn't always look like they knew exactly what they were supposed to be doing, but they gave it their best shot, and always with smiles. Some of the smiles were genuine, some were pasted on especially near the end, and some were unsure, but smile they did.
At the end as the Little Miss, Jr. Miss, Teen Miss and Miss awards were given, a few of the smiles were shakey as their owners bravely fought back tears. But as always, the smiles of the winners were bright and full of joy, as they happily accepted the accolades, sashes, trophies and the much coveted Crowns.
Every one of the girls were told they are beautiful inside and out, but some went home feeling more beautiful than others. Parents and grandparents, aunts and uncles, brothers and sisters and friends all gathered to cheer for their own loved ones who wanted so badly to be the one wearing the glittery crown at the end of the night.
Some left full of pride and others left quietly sad for their little girl who went home without the crown, and some who went home with no awards at all. It was much like a sports event where someone wins and someone loses. It gave these 28 girls an opportunity to learn how to be a good winner or a good loser.
Some moments seen during the evening were inspiring, such as when one of the girls was as thrilled for the winner as if she had been the winner herself. Another special moment occurred when the crowning queens made sure to hug and comfort the girl who did not receive the crown, as part of the crowning ceremony for the one who did.
There were sweet moments such as when the little ones marched proudly across the stage to show off their lovely evening gowns, smiling shyly or radiantly according to their personality. One little one gave everyone in the audience a smile with her twirl at the end of her walk for the judges. And the only contestant for Miss Montpelier, Reese Hand, carried herself with joy, dignity and confidence as if she had competitors vying for the crown.
The judges, all women who know this life of pageants, were given their due as well. Each one was introduced by name, where they were from and with a list of accomplishments.
They haled from as far away as Puerto Rico and as nearby as Montpelier. One judge was the mother of one of the other judges, making it a very special evening for them. The Directors who worked so hard to make this evening happen were Jill Clinger, Rachel Gendron, Kendra JoHantgen and Lisa Shankster for Montpelier and Becky Eustace and Tammy Mitchell for Pioneer.
The Emcee for the evening was Dawn Sheline who did a great job making each girl sound as special as she was. Sound and Lighting was handled by Rylan JoHantgen, Kelly Schaffer and Connor Gendron, with photography by N Garza Photography.
Things that were heard throughout the evening included what the girls want to be when they grow up, what their favorite subject is in school, why they wanted to be the winner of the crown, what types of things they love to do, what grade they are in next fall and who their parents are. Just to name a few of those facts from the Montpelier contestants:
-Reese Hand is on the Jr. Fair Board
-Kaitlyn Terry wants to raise funds to buy pool passes for others who can't
-Piper JoHantgen was elected to Student Council
-Savannah Reeder wants to raise money for local food pantries and fight hunger
-Madyson Smith wants to be a Hair Dresser when she grows up
-Kendalynne Dilley likes Softball and cheerleading
-Maggie Richmire thought long and hard about who her favorite cartoon character is and decided it is the mouse on Tom and Jerry because it beats the cat.
-Breelynn Shankster has held a number of Miss titles
-Willow Hickling loves to meet new people and make new friends
-Braelyn Harter wants to wear a Tiara in a parade
-Kaylee Barrett wants to be a singer and dancer when she grows up
-Juniper Daft wants her little sister to be proud of her
For PIoneer, some of the contestant facts were:
-Baylee Joice plans to be a Nurse and will get her STNA this summer
-Ava Livengood has a beautiful singing voice
-Trinity Conrad loves fishing and softball
-Gracie Zuver enjoys Solid Rock Youth Group
-Claire Gendron said her favorite book is The Bible
-Bryn Gearig said if she had magical powers it would be to heal the sick and hurting people
-Candace Gendron was chosen as Student of the Month at school for Friendship
-Caylee Denstedt hopes to be an Art Teacher when she grows up
-Allison Zuver wants to be a Veterinarian
-Emersyn Adams made the crowd laugh when asked the question, "What is your favorite chore?" She looked stymied and then said, "I don't like any chores!"
-Makayla McElroy loves math and wants to be an Accountant when she grows up
-Kensington Creek already loves doing makeup tutorials at the age of 5
-Isabell Birdsall absolutely loves Books and wants to be an author
-Olivia Birdsall's favorite teacher is Mrs. Borton "because she's fun."
-Brinley Sentel plans to be a nurse when she grows up because she wants to help people
-Jazlyn Pettit likes to sing, dance and draw
All of these delightful girls were fun to watch. The love poured out on them by their families in time, clothing and encouragement paid off as all of them were worthy of their family's pride.
The 2021 Pioneer winners were Miss Pioneer 2021 – Baylee Joice; Teen Miss – Gracie Zuver; Junior Miss – Bryn Gearig and Little Miss – Kensington Creek. In each of the four categories, a number of other awards were given, some with money or gifts attached.
For the Miss Pioneer category: Most Photogenic went to Baylee Joice; Miss Congeniality to Trinity Conrad; Most Talented to Ava Livengood; and First Runner-Up to Trinity Conrad. For the Teen Miss Pioneer category: Most Photogenic, Miss Congeniality and Top Interview all went to Gracie Zuver; and First Runner-Up was Claire Gendron. The Junior Miss Pioneer awards for Most Photogenic and for Top Interview went to Bryn Gearig; Miss Congeniality to Caylee Denstedt; and First Runner-Up to Candace Gendron. The Little Miss Pioneer awards were spread out and started with Most Photogenic going to Brinley Sentel; Miss Congeniality to Olivia Birdsall; Top Interview to Isabell Birdsall; Second Runner-Up to Makayla McElroy; and First Runner-Up to Allison Zuver.
For the Pride of Montpelier, the 2021 winners were Miss Montpelier 2021 – Reese Hand; Teen Miss – Kaitlyn Terry; Junior Miss – Breelynn Shankster; and Little Miss – Braelyn Harter.
Awards were also given to the Montpelier girls in a number of categories. Reese Hand, as the only participant in the Miss Montpelier category received awards from the Montpelier Civic League and a Volunteerism award from Thompson Funeral Home, as well as Beautiful Inside award from Heather Allman of Raymond James Financial.
Little Miss awards received included: Top Interview and Miss Congeniality to Braelyn Harter; Most Photogenic and First Runner-Up to Juniper Daft. Junior Miss awards: Top Interview, Miss Congeniality and First Runner-Up all went to Maggie Richmire; and Most Photogenic went to Breelyn Shankster. Teen Miss awards: Top Interview – Kaitlyn Terry; Most Photogenic and First Runner-Up – Piper JoHantgen; and Miss Congeniality – Savannah Reeder.
Other awards given included one from the Montpelier Civic Group for courtesy, graciousness, friendliness and community focus.
Those went to Juniper Daft for Little Miss, Madyson Smith for Junior Miss and Piper JoHantgen for Teen Miss. The next award to which they were given the opportunity to apply, was the Volunteerism Award from Thompson Funeral Home.
Braelyn Harter was chosen for Little Miss, Breelynn Shankster for Junior Miss, and Savannah Reeder for Teen Miss. Mike Moore from Montpelier Rotary Club presented a $50 prize to each age group, with Kaylee Barrett for Little Miss, Willow Hickling for Junior Miss, and Savannah Reeder for Teen Miss accepting those.
The Beautiful Inside award, given by Heather Allman of Raymond James Financial also was $50 and went to Kaylee Barrett for Little Miss, Kendalynne Dilley – Junior Miss and Kaitlyn Terry – Teen Miss.
Other awards given included the Cheryl Harter Memorial People's Choice Award which went to Piper JoHantgen; and Most money raised for the Montpelier 50/50 was Breelynn Shankster.
Despite the fact that everyone had been there for four or five hours, the girls all gathered on the stage after the Pageant was over to get group pictures taken.
Even those who felt sad as they had not gotten a crown, put on their bravest smiles one more time before heading home for a well deserved sleep.
Rebecca can be reached at publisher@thevillagereporter.com
---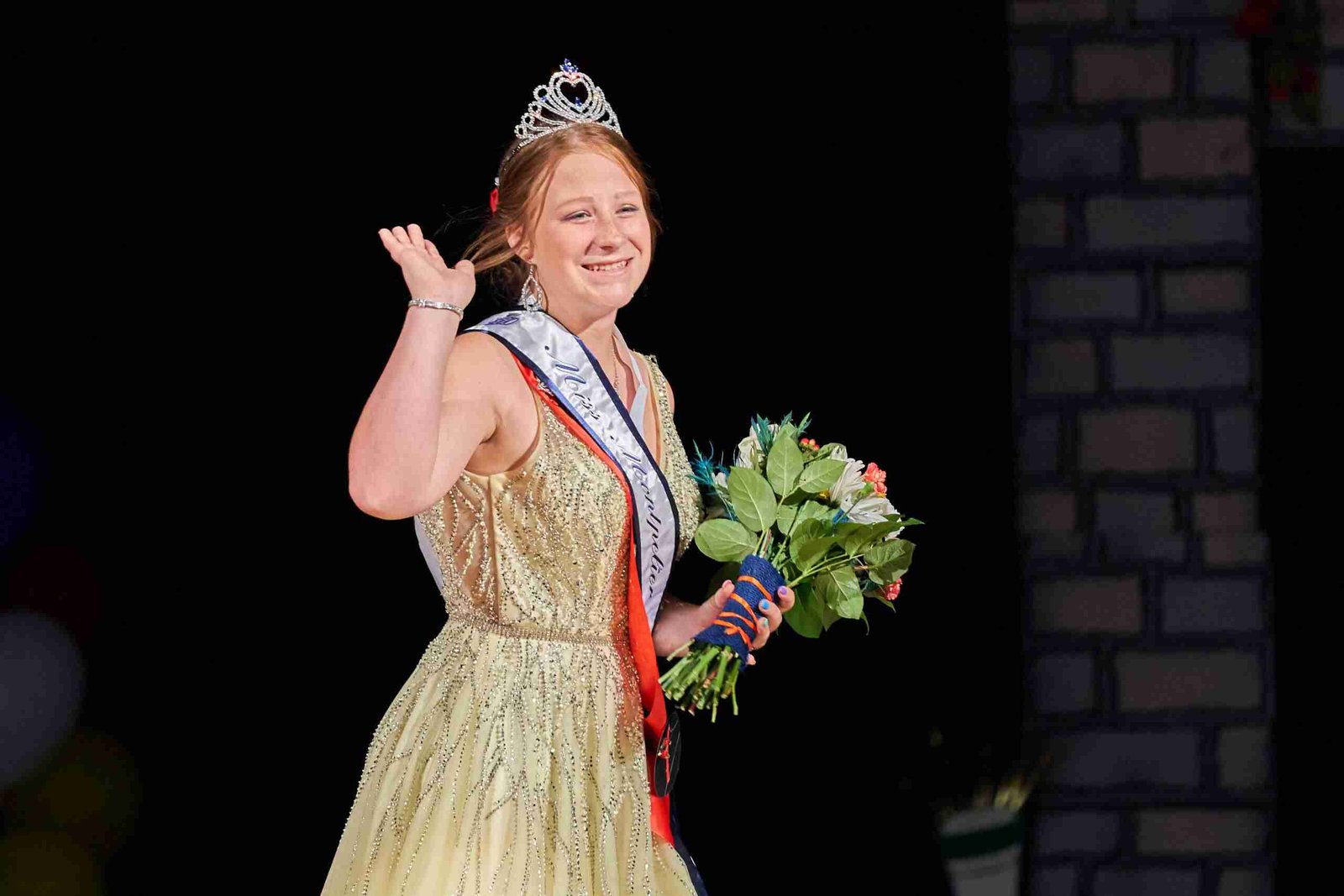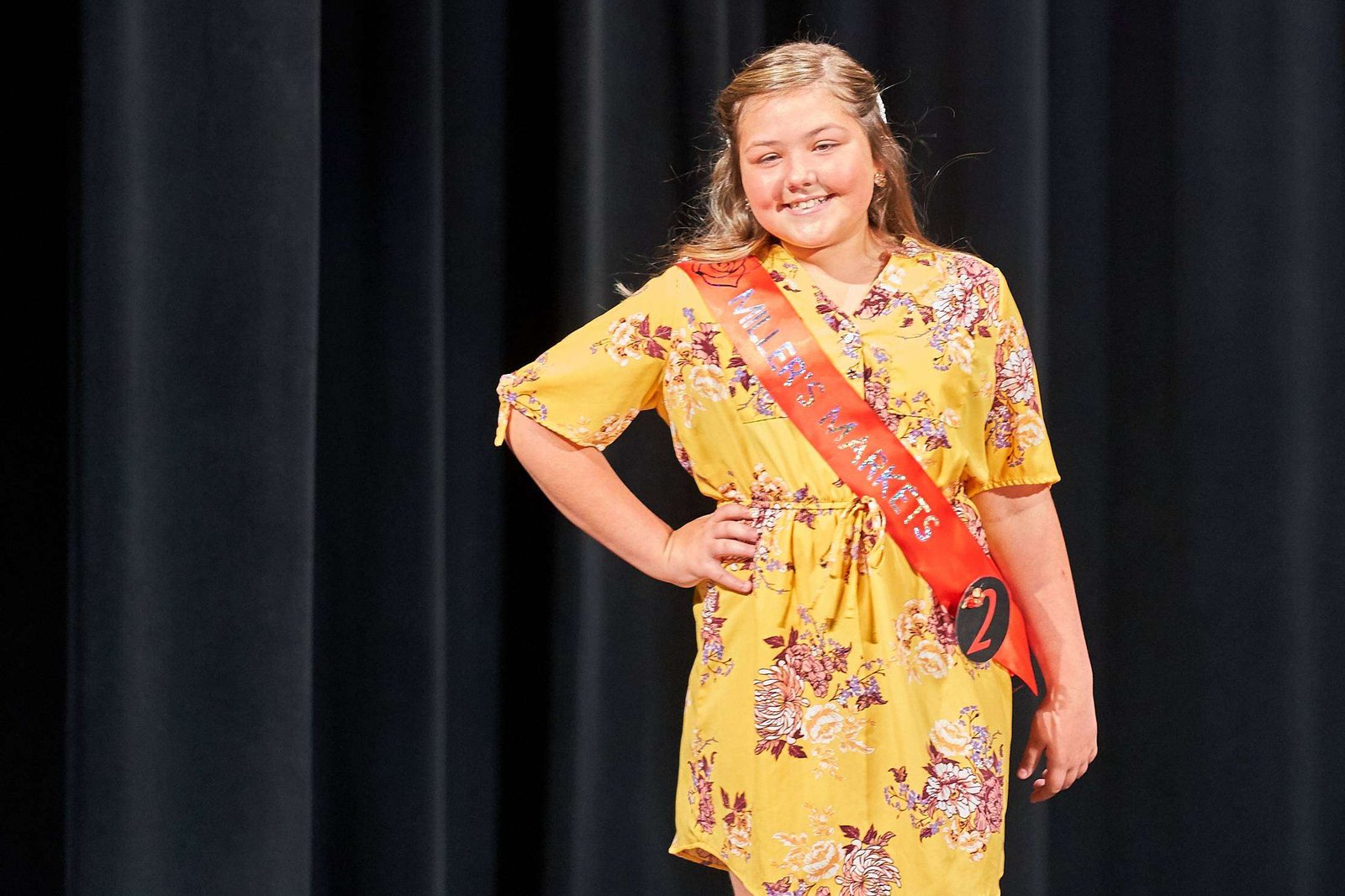 ---