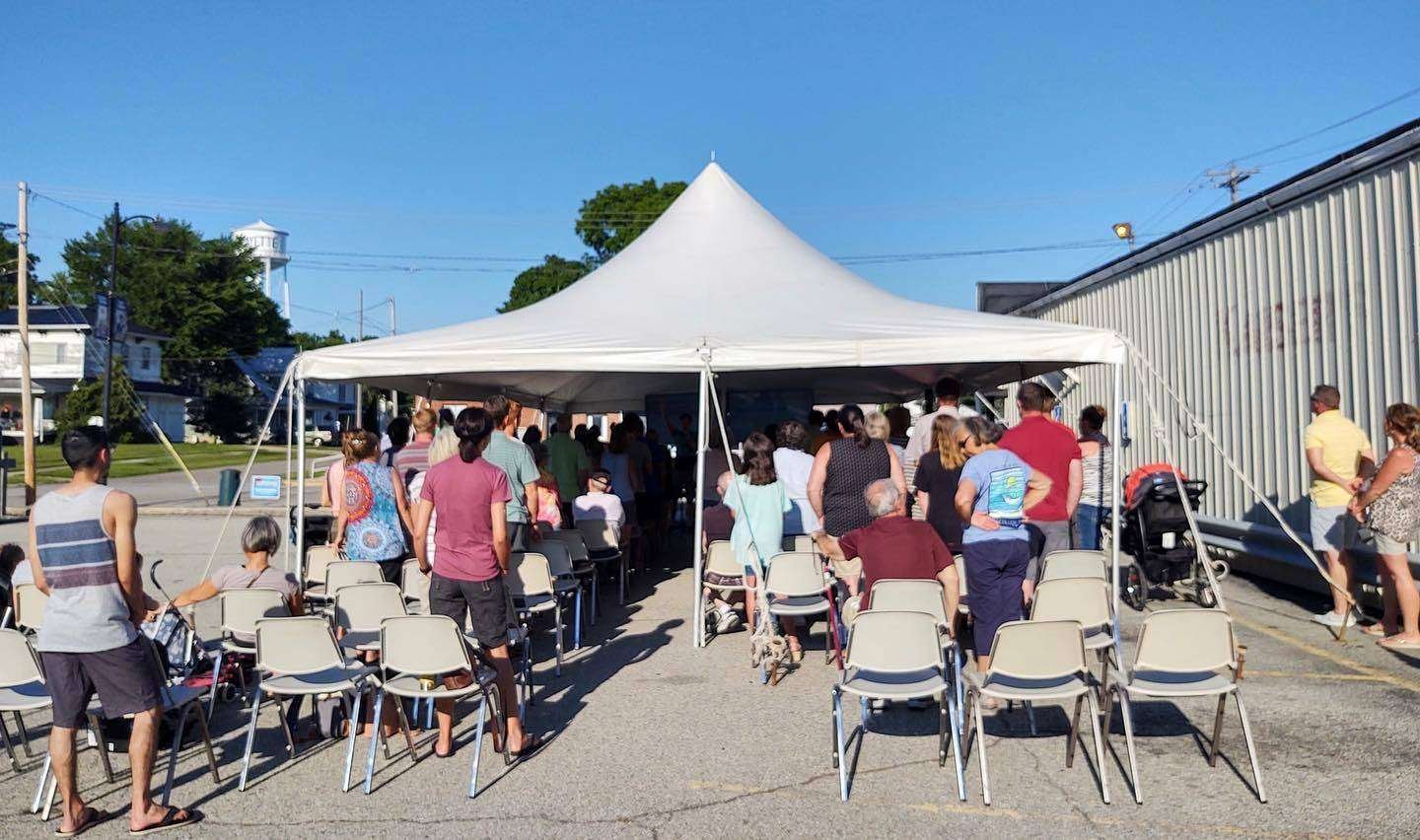 WORSHIP GATHERING … A group of people gather in Fayette at the Wellspring Worship Gathering. (PHOTO PROVIDED)
---
By: Jacob Kessler
A new gathering has started in Fayette at the old supermarket building on North Fayette Street. It is called the Wellspring Fayette Worship Gathering and organizers are inviting everyone to come and worship Jesus.
The gathering takes place every Sunday night from 6:30PM to 7:30PM under a tent during the summer. Pastor Peter Rupp is one of the organizers and preaches at the gathering.
"We want the gospel of Jesus Christ to move forward in people's lives for those that have and haven't heard of him and to embraced him," Peter said.
The group holds a sermon and has live music with the music being a mix of newer and older style music. "Church history is incredibly important. We work in songs that have depth and meaning for all people," Peter explained.
The theme for this summer is the book of Philippians. "We want to have people choose joy. If Paul can choose joy and preach about choosing joy from a prison cell, then we can choose joy too," Peter said.
The gathering will have a sermon conducted by Peter once a month with the other 3 weeks being conducted by Pastor Jeff Eagen.
Peter will be leading the music each of the other 3 weeks as well. "We want everyone in Fayette and everywhere else to know they are more than welcome to come. It doesn't matter if they are Christians or not."
"We are creating a space for people to come and worship Jesus expressively or for the first time. We are here to talk and answer questions for everyone," Peter said.
The Wellspring group is hoping that this will become a church in the future.
For now, in the summer it will be located outside and will move inside as fall gets closer.
Jacob can be reached at publisher@thevillagereporter.com
---