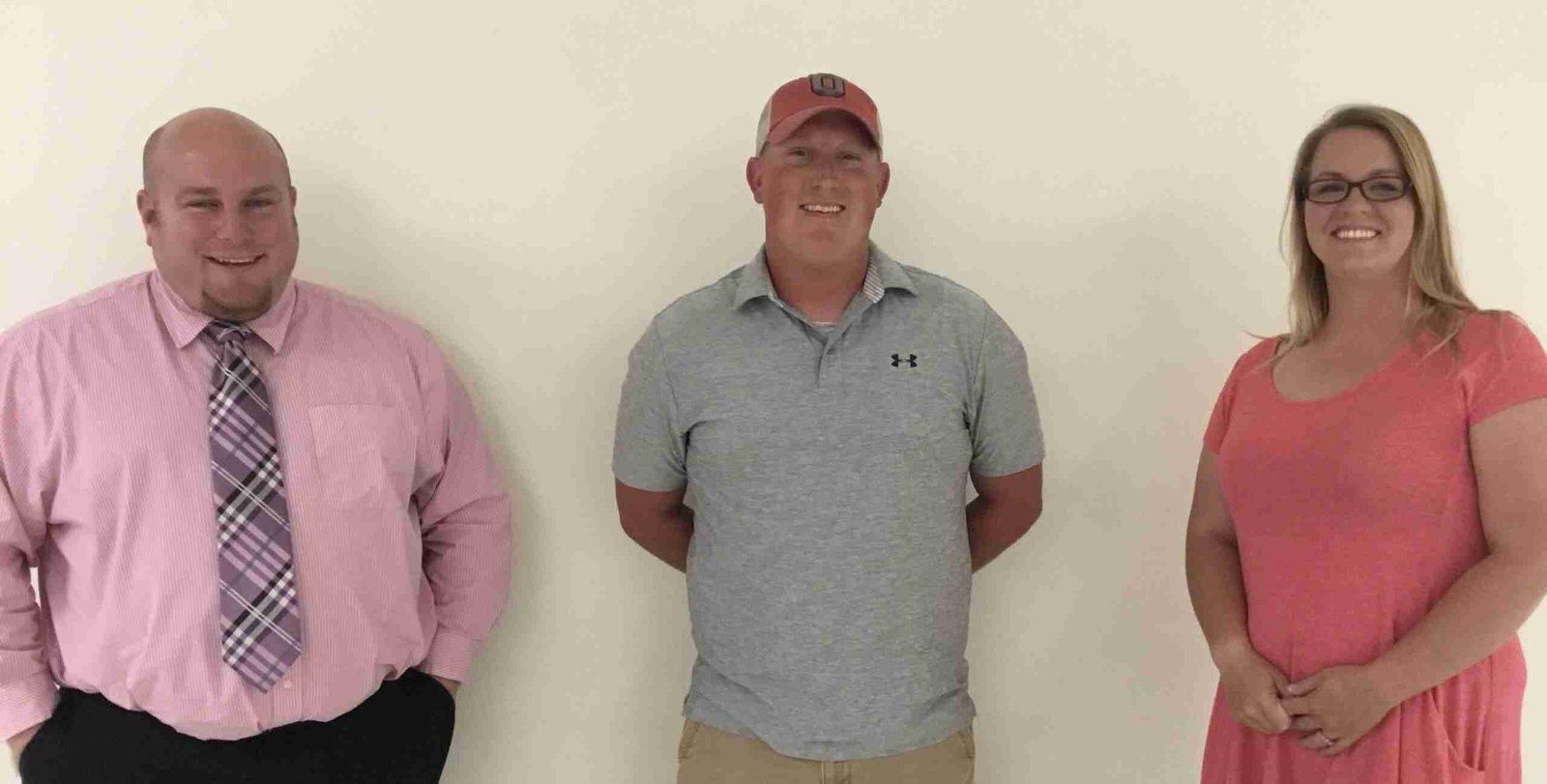 PETITIONS FILED … These three young Pioneer residents would like to have an opportunity to be on the village council in their hometown. From left to right are Ben Fiser, Trever West and Traci Filson. (PHOTO BY REBECCA MILLER, STAFF)
---
By: Rebecca Miller
Following the normal beginning agenda of the Pioneer Village Council August 9, 2021 meeting (approval of agenda, last meeting minutes, financial report and payment of bills), Mayor Ed Kidston welcomed three young people who have all filed petitions to run for council.
Council heard monthly reports from Police Chief Tim Livengood and Fire Chief Denny Fackler. Fackler announced that long time two firemen, Jim Hicks and Colt Fackler, have retired and they continue to hope for more younger people to step up, and Livengood said that the PD is also short on staff with a full time position open.
Chief Fackler also informed council that the department has been called by the state to help with traffic control at the intersection of St. Rts. 15 and 20 when there is an accident on the turnpike.
Fiscal Officer April McMillen reported that the first half of ARP (American Rescue Act) was just over $73,000.
Council member Connie Salsbury reminded everyone that the Relay for Life was scheduled for Friday, August 13 at 5:00 and Council member Bill Turner announced that a Vaccine clinic will be held at the Pioneer Nazarene Church on August 27 at 4:30. Both vaccines will be available.
Village Administrator Al Fiser informed council that the electrician that the village had hired decided to go back to the job he had.
Fiser said they are now looking to replace him. Mayor Kidston brought up the need to also hire a trainee for the Water and Sewer manager to train to be ready when he wants to retire.
Mayor mentioned that bids for the State St. project will be on Thursday at the Commissioners meeting. The village will get the recommended bid at the September meeting.
Pioneer Chamber President Michael presented the desire of the Chamber to hold a Fall Fest on October 2nd. They are working on plans and hope to have a band, a beer tent, regular festival items and want to put on a Glow Parade for bicycles, golf carts and whatever to drive around town.
He spoke about a possible route for that parade and Ms. Salsbury mentioned that she saw one that had horses, wagons and tractors, as well, as a suggestion for this one. He said that the chamber has enough money to cover everything they want to do.
Council voted to approve Ordinance 32-2021 An ordinance amending appropriations for 2021 and declaring an emergency, to appropriate the ARP money.
Also approved was Resolution 123-2021 A Resolution establishing the local fiscal recovery fund and affirming that funds received by the village pursuant to the ARP act of 2021 shall be used only to cover costs incurred by the village consistent with the requirements of the act and applicable law and regulations and declaring an emergency.
Mayor Kidston recognized the four visitors present for "the lake question" and explained what the village has done to take care of the problem they are having presently.
The goal is to stabilize and determine what needs to be repaired. He said it has nothing to do with the storm water pipe, so they are working on plans that should be taken care of within a month.
They plan to place another headwall with a box behind it for gravel to drain into and then pump that water back to the lake, when it is needed, to keep it level. He said they are not absolutely positive that it will solve the issue but they are pretty sure it will. He assured the visitors, "We are going to make this happen."
Mayor Kidston removed himself from the meeting as they needed to cover an item for which he wasn't sure whether he should be there or not, so he was leaving.
Al Fiser informed council that the topic was about getting Engineer bids for the extension. The village received two engineers who applied with their qualifications, Jones and Henry or Bell Engineering, and he recommended accepting Bell as the village has used that company for everything else so far for the past ten years.
Council member Al Kwader said that is the very reason he feels they should choose a different company, that it is time to have someone else do a job in Pioneer.
Fiser showed their company book and council members passed it around to check into the other company's qualifications.
Following some discussion as to whether the storm sewer issue was caused by Bell Engineering or not, and why they have to choose a company without a bid, council voted to ask Jones and Henry to give them a proposed cost for the project.
Village Solicitor Tom Thompson assured them that if they do not like the amount that Jones and Henry gives them, they can change their minds and offer the project to Bell Engineering.
With no further business, the meeting adjourned.
Rebecca can be reached at publisher@thevillagereporter.com
---