---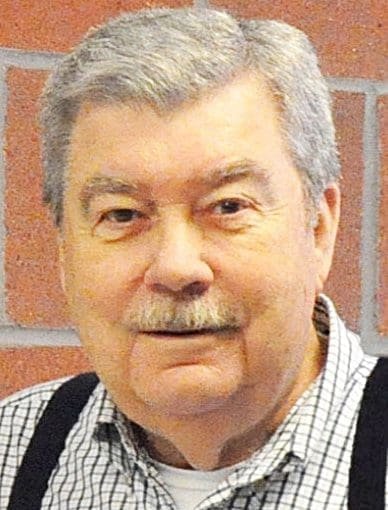 Rollo Eugene Frazier, age 90, passed peacefully from this earth on March 6, 2023. Born at home on April 15, 1932, in Wauseon, Ohio, he was one of six children of the late Rollo S. and Susie M.(Fetzer) Frazier. He graduated from Wauseon High School in 1950.
Rollo proudly served in the U.S. Army during the Korean War and was stationed in Germany as a radar technician.
That enabled him to document travel throughout Europe with a new camera purchase, the start of a lifelong hobby of taking pictures.
That meant he also became official photographer at family gatherings and class reunions.
Rollo was introduced by friends to his true love, Ellen Heselschwerdt, at a Wamplers Lake summer gathering. The couple quickly fell in love but were separated during his two-year Army duty.
They were married on January 2, 1954, and later moved to Wauseon where they lived for 66 years in the home they built together.
Rollo held several unique jobs, including delivering coal and building farm silos for his father's business, the Wauseon Silo and Coal company.
He was also a milkman for the Meadow Gold Milk Company, and he retired with more than 20 years of service as the Personnel Manager at Sheller Globe Corporation in Wauseon.
To keep busy, he enjoyed helping customers at Newcomb's Marathon in Wauseon.
Rollo was a talented craftsman, wood worker and maker who could build or repair anything. He was always tinkering in his shop, designing furniture, fixing household items, and making decorative clocks for friends and relatives.
During summers, he tended large vegetable and flower gardens when he wasn't swimming in the family back yard pool.
He was also a member of the Veterans of Foreign Wars, Fulton County Sportsman's Club, the Wauseon Elks Club, and the First Christian Church.
Rollo loved his family and was known by his grandkids for his mustache kisses, Easter egg hunts and root beer floats.
He is survived by two children Doug (Julie) Frazier and Laurie (David) Barnes and will be missed by his grandchildren Sydney Frazier, Derek Sommers, Briton Beerbower, Deiter (Sarah) Beerbower, Hannah Harp, Holden Frazier, and nine great-grandchildren. Rollo is also survived by sister Hazel (Richard) Wyse and brother Roger (Carol) Frazier as well as many nieces and nephews.
He was preceded in death by his parents, brother Leon (Pauleen) Frazier, sisters Arlene (Dan) Clingaman and Phyllis (Tony) Burkholder, and his wife, Ellen recently, in December of 2022.
Visitation for Rollo will take place on Sunday, March 12, 2023, at Edgar-Grisier Funeral Home in Wauseon, Ohio, from 2 p.m. to 6 p.m. A funeral service will be held on Monday, March 13, 2023, at the Edgar-Grisier Funeral Home at 11 a.m. with Pastor Michael Doerr officiating. The service will be followed by burial at the Wauseon Union Cemetery.
In lieu of flowers, the family asks that memorial contributions be made to the First Christian Church of Wauseon.
Online condolences may be offered to the family at www.grisierfh.com. The Edgar-Grisier Funeral Home is honored to serve the Frazier family.
The obituary for Rollo was lovingly prepared by his family.
---