---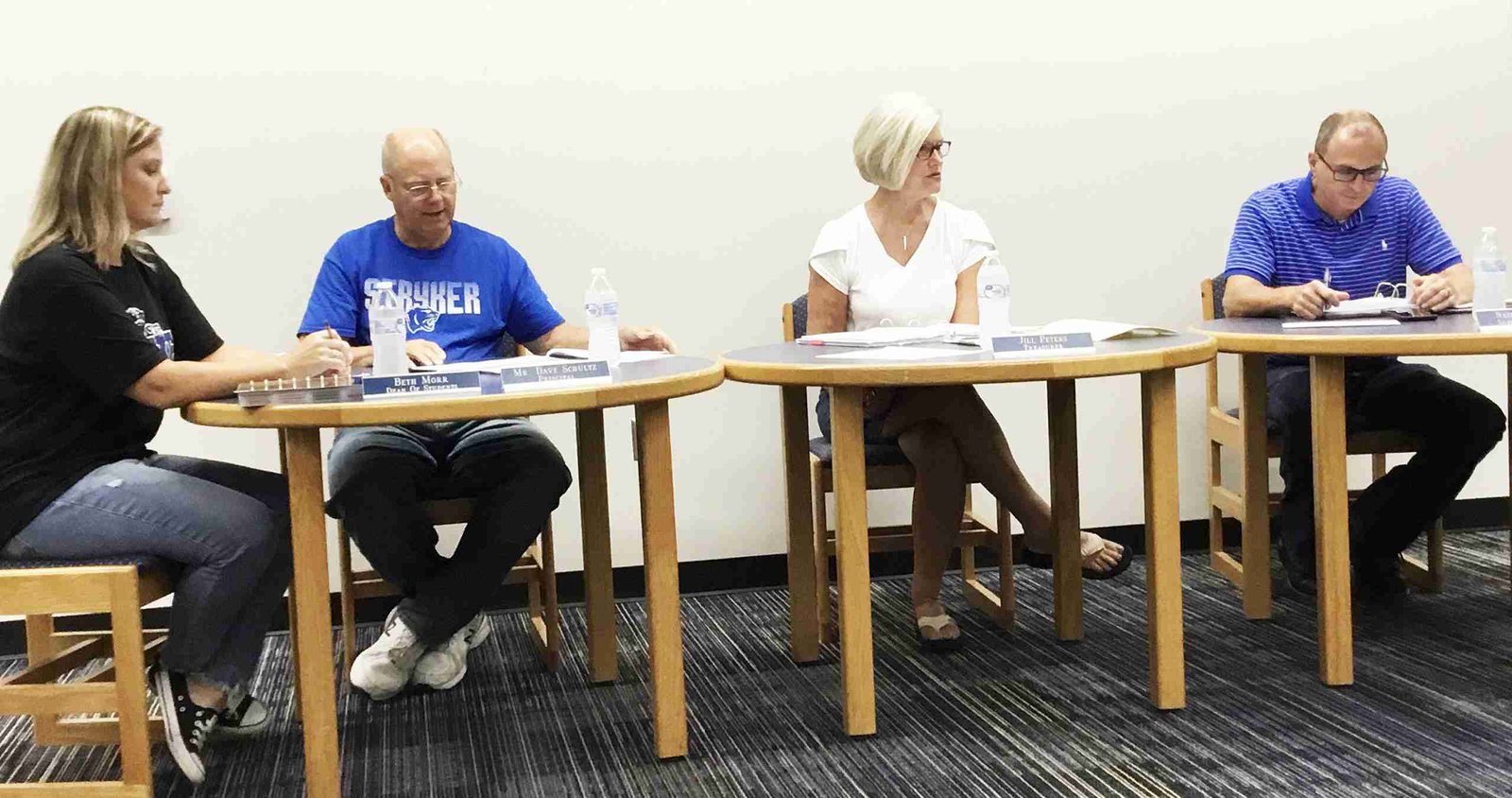 ADMINISTRATIVE REPORTS … Treasurer Jill Peters (center) is seen here as she gave her monthly report to the Stryker Board of Education at the August 15, 2022 board meeting. On the left are Dean of Students Beth Morr and Principal Dave Schultz and on the right, Superintendent Nate Johnson. (PHOTO BY REBECCA MILLER, STAFF)
---
By: Rebecca Miller
Dean of Students, Beth Morr, announced at the August 15th, 2022 meeting of the Stryker School Board, that the school will be welcoming an assistance dog, probably around December.
Ms. Morr shared with the board that around five years ago she had checked with Superintendent Nate Johnson about whether the school would be allowed to have an assistance dog, and he had agreed that they could check into the possibility and get their name on the list.
She laughed and shared that she had almost forgotten about the opportunity and then in April of this year, The Ability Center called to ask if they are still interested and she was able to answer in the affirmative after a chat with Mr. Johnson.
In July they called and said they have two who will be ready to go into a school in December. The two dogs are a yellow lab and a black lab and she was not sure which one they will be assigned, but whichever way it goes she is very excited about how this can help the students in the school.
In her monthly report to the board, Morr thanked everyone on custodial and maintenance staff and teachers for preparing the school for the new year.
The Otis Spunkmeyer Cookie Dough Fundraiser will have its kickoff for this year on August 19th.  School pictures will be taken on September 16th.
Principal Dave Schultz reported that August 16th was scheduled for Teacher Work Day, followed by Open House from 4-6 p.m. for the public. August 17th was the first day of school.
Other upcoming dates: September 1 – Jostens senior and sophomore meetings to be held at 8:30 and 9:15; no school on September 5th for Labor Day and September 12th for Fair Day.
He wished all the fall sports good luck in their endeavors stating that golf had already started on August 5th, volleyball opens at Liberty Center on August 20th, cross country opens at Defiance Invite on August 27th, and football opens with North Adams at 5 p.m. on August 27th.
In regular business, the board approved:
-The agenda for the meeting
-Minutes of the June 27, 2022 meeting
-Treasurer's financial reports and recommendations which included July report general fund cash balance of $8,680,854.88, total revenue of $608,412.48 and total expenses of $720,857.60; Then & Now certificates; Student Activity and Athletic Purpose and Budget statements; amended Certificate of Estimated Resources; and closing the Senior Class 2022 fund
-Superintendent's Personnel Recommendations – a. Employment Contracts and adjustments for all Certified and Classified personnel, being Darlene Repp and Shannon Grime as school nurses, Gary Stuckey as Transportation Route Driver, and Renee Myers and Taylor Heath as substitute teachers; b. supplemental contracts, being Stacey Short as Jr. Class Assistant, Emily Rodriguez as Elementary Quiz Advisor, Kenneth Williams for Jr. High Football, and Chase Glock for Jr. High A.D.; c. Classified/Certified subs and volunteers, being volunteer Kenneth Williams for JH Girls Basketball Assistant, substitute positions – JoAnne Bell for Food Service, Mandy Oberlin and Olivia Brieninger in custodial, Brian Cheeseman in transportation and Tammy Riegsecker for school nurse
-Scheduled bus routes and authorize the Transportation Supervisor and Superintendent to make changes as necessary during the 22-23 school year.
Board member Dan Hughes raised the subject of the price of games for students. He said that he had been approached with the knowledge that Tinora is having specific free events and the resident was wondering if Stryker does that or would do that.
Mr. Johnson and Mr. Schultz both explained that this had already started at Stryker and that last year they actually had quite a few of entrance free nights attached to special events such as Family Fun Night. When it is not free it is $5 for students.
There have been donors who have covered the price of students for certain events. On the side of the discussion, it was pointed out that students sign in and anyone grade six and under has to be accompanied by a parent. Mr. Johnson smiled and said that Tinora is following Stryker's example.
With no further business, the meeting adjourned at 5:51. The next board meeting is scheduled on Tuesday, September 13th instead of on Monday as usual, due to the Williams County Fair Day.
Rebecca can be reached at rebecca@thevillagereporter.com
---