---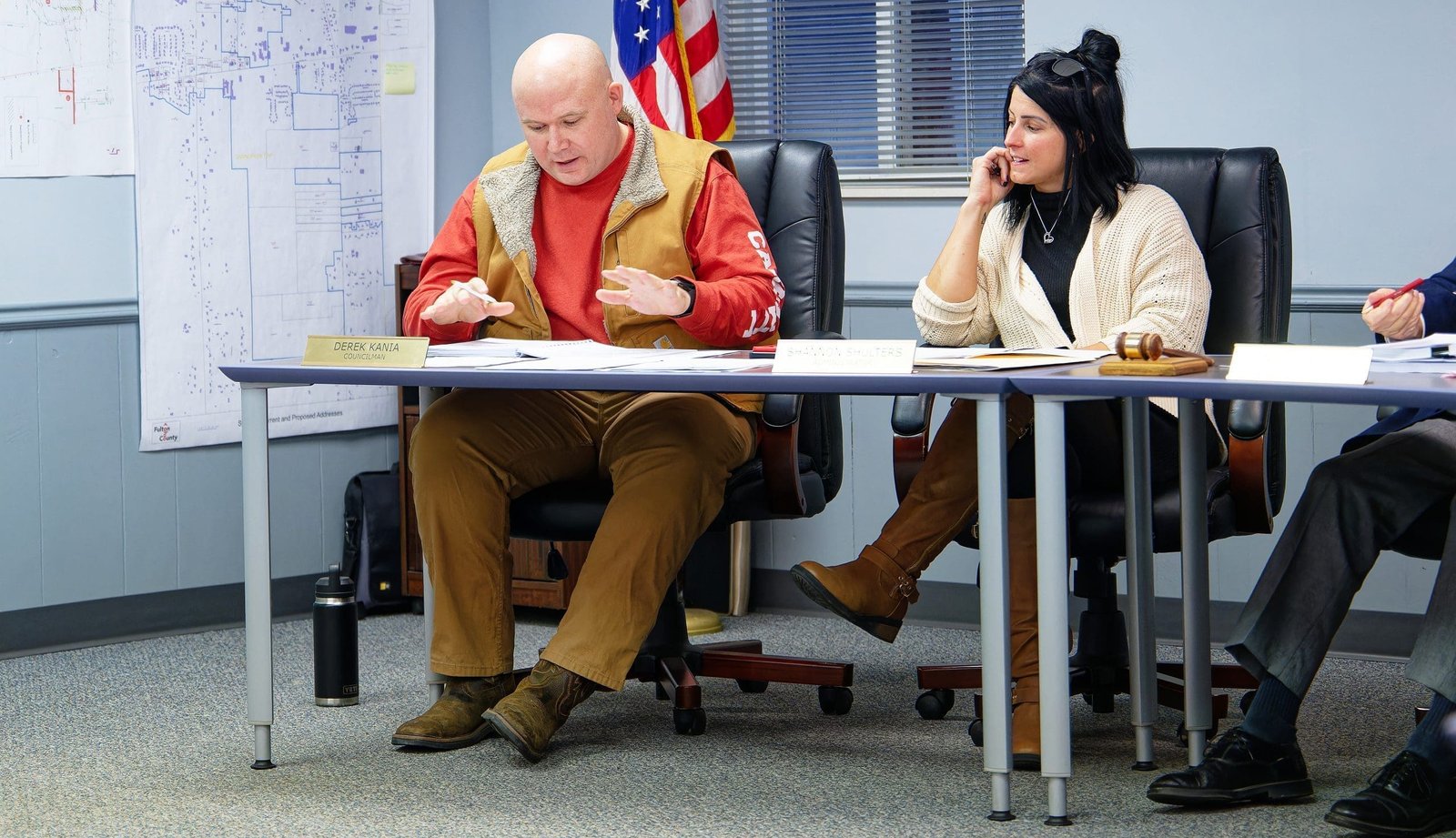 ORDINANCE … Councilman Kania asks questions regarding changes being made to the codified ordinance before the passing of Ordinance 2023-03. (PHOTO BY JACOB KESSLER, STAFF)
---
By: Jacob Kessler
The Swanton Village Council held their meeting on Monday, February 28th. The meeting began at 6:01 p.m. with a prayer and the Pledge of Allegiance.
Council first moved to approve the agenda as presented, as well as the minutes from the February 17th Special Meeting. Division reports were heard next with finances being discussed first.
Work is being done with STAR Ohio to get approval to access an account and Diane with UAN spent most of Saturday the 18th in the offices getting payroll and other items completed. It was stated that Diane also came up with a list of things that need to be addressed.
Public safety was discussed next with a report already having been given to council. Public service went next with it being stated that a brush pickup will be taking place soon due to the recent ice storm.
No specific date was given during the meeting although it was stated a notice would be put out on social media when the date was figured out.
A sink hole on Sanderson is not getting better. Contact will be made with Jones and Henry regarding warranty work.
Under water and sewer, a water rate study was discussed. The study is supposed to take place every five years.
The topic of having the study completed in house vs by a third-party company was brought up. A quote was received by one company who could do the study with the amount being set at $24,000.
Contact will be made with other companies to see if there is lower pricing available.
An unannounced visit was made to the water plant by the Ohio EPA. It was stated that no issues were found during that visit.
Lastly, the tree commission was brought up. The village was notified that they will not be considered a Tree City for last year due to not having a fully active tree commission that meets regularly and also due to not holding an Arbor Day event.
Discussion took place regarding the benefits of being a Tree City. It was stated that some grants are available to those locations who are considered one.
The mayor then gave his report which started out with a discussion regarding the Fulton Leadership Program.
Questions brought up from residents regarding areas serviced by the police and fire departments were also touched on as well as continued meetings with department heads.
The administrator's report followed after with news that Team Nelson had worked with the village to come up with a priority list for trees and plantings. Discussion then moved on to Ordinance 2023-11.
The ordinance is the third and final reading to adopt and amend the updated Codified Ordinance Chapter 150,151, 152 Land Use Codes.
Before council moved to vote on the item, council member Derek Kania asked a few questions regarding some of the changes made to the ordinances.
These questions were in reference to obtaining a permit when having an RV or trailer stationed on your property for long periods of time, new commercial building requirements regarding the need for 60% of the first-floor façade needing to be made with at least 60% glass or a transparent material, bed and breakfasts within the village limits, and enforcement abilities.
Council then moved to approve the third reading of Ordinance 2023-03.
Also approved was Resolution 2023-11 for the approval of the 2022-2023 Village of Swanton Personnel Manual and declaring an emergency.
Council next moved to enter executive session at 6:43 p.m. The meeting then resumed at 7:21 p.m. with council moving to move $40,000 from the General Fund to the 2053 Local Fiscal Recovery Fund for sewer separation bills, and $155,000 to the 5702 Wastewater Resource Facility Capital Fund.
With no other items to attend to, council moved to adjourn at 7:23 p.m.
Jacob can be reached at jacob@thevillagereporter.com
---