---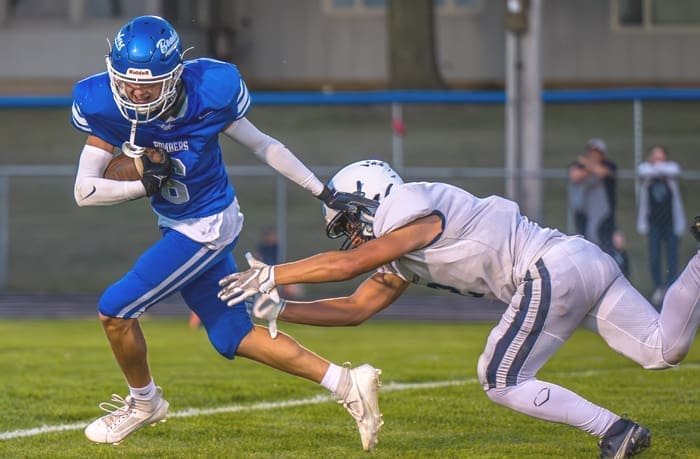 TAAC OPENER … Max Radabaugh breaks a tackle after hauling in a pass from Kyler Sapp for a second quarter Bomber touchdown. (PHOTO BY JACOB KESSLER / THE VILLAGE REPORTER)
---
By: Nate Calvin
EDON (September 22, 2023) – The TAAC opener for the Williams County rivals lived up to its billing has a back-and-forth final stanza was decided by the Bomber defense who stopped a game winning two-point conversion try by the Locos for a 35-34 win.
The fourth quarter fireworks, which saw the teams combine to score 33 points, began with Montpelier drawing even after falling behind 22-6 as quarterback Hayden Sharps went 24 yards to Nathan Rummel for a touchdown and then Kam Smith ran in the two-point conversion to tie the game at 22.
Edon answered back on the legs of quarterback Kyler Sapp with runs of 42 and 27 yards before eventually scoring on a draw play from two yards to make it 28-22.
Sharps would then show off his running ability on the ensuing Montpelier drive with a 46-yard scramble on third-and-11 before connecting with Rummel again for a 16-yard scoring strike to tie the game at 28-28 as the Locos missed the extra point with 2:06 remaining.
Backed up to their own three-yard line after mishandling the kickoff, Sapp aired it out to Kendol Brigle as he got behind the Loco defense down the middle of the field for a 97-yard touchdown pass to put Edon back on top at 35-28.
Taking over with 1:09 left in the game, Montpelier worked the ball down the field as Sharps had an 11-yard run and Smith caught two passes for 51 yards to put the Locos at the Edon one-yard line.
On first-and-goal, it was Sharps scoring on a quarterback keeper to bring the Locos to within 35-34 with :21 seconds left in regulation.
After missing two extra points earlier in the game, Montpelier opted to go for two-points and the lead but Sharps was sacked before he could get the pass off to give the Bombers a 35-34 win.
Montpelier started the game strong by scoring on their first drive in just five plays as Sharps hit Brayden Brink down the right sideline on a 35-yard pass to setup a five-yard TD run by Sharps for a quick 6-0 lead.
After their first two possessions ended with turning the ball over on downs, Edon got on the board with :41 seconds left in the opening quarter as Sapp found Max Radabaugh on an 11-yard pass to make it 7-6.
Following a Loco punt, Edon needed just two plays to find the endzone again with Radabaugh catching a 24-yard pass before hauling in a Sapp pass over the middle and after breaking a couple tackles he would go 56 yards for a touchdown.
Edon's next drive was a 10-play, 47-yard march, ending with another Sapp to Radabaugh strike, this one covering eight yards, to extend the lead to 22-6 after a successful two-point conversation.
The Montpelier defense forced a much needed turnover as they stopped a lengthy Bomber drive to start the third quarter as Smith intercepted Sapp to give the Locos the ball at their own 28-yard line.
Montpelier's best drive of the night followed as they were aided by two Edon penalties to keep the 16-play, 72-yard drive alive.
The Locos' possession ended with Sharps going to Brink on third-and-goal for a six-yard touchdown pass and after a two-point conversation to Grant Girrell, Montpelier closed the deficit to 22-14 with :24 seconds left in the third.
Sapp ended the night 38/49 passing for 358 yards and four touchdowns while also running for 68 yards and a score.
Radabaugh finished with nine receptions for 123 yards and three touchdowns and Brigle caught three passes for 115 and the game winning touchdown for the Bombers.
Sharps carried the offensive load for the Locos by running for 93 yards and two touchdowns and throwing for 292 yards and three scores. Smith led the Locos receiving corps with 101 yards on nine catches.
UP NEXT: September 29 – Northwood (2-4, 0-1 TAAC) at Edon (4-2, 1-0 TAAC) 7pm; Vanlue (1-4) at Montpelier (4-2) 7pm.
MHS            EHS
First Downs             15               17
Rushing Yards       28-141      14-82
Passing Yards         292             358
Passing                   19-35-1     38-49-1
Total Yards             433              440
Fumbles-Lost         0-0              2-1
MONTPELIER  6  0  8 20 – 34
EDON                7 15 0 13 – 35
M – Sharps 5-yard run (kick failed)
E – Radabaugh 11-yard pass from Sapp (kick good)
E – Radabaugh 56-yard pass from Sapp (kick good)
E – Radabaugh 8-yard pass from Sapp (Hurlbert pass from Sapp)
M – Brink 6-yard pass from Sharps (Girrell pass from Sharps)
M – Rummel 24-yard pass from Sharps (Smith run)
E – Sapp 2-yard run (pass failed)
M – Rummel 16-yard pass from Sharps (kick failed)
E – Brigle 97-yard pass from Sapp (kick good)
M – Sharps 1-yard run (run failed)
INDIVIDUAL STATISTICS
RUSHING: Montpelier – Sharps 14-93; Edon – Sapp 11-68; PASSING: Montpelier – Sharps 19-35-1-292; Edon – Sapp 38-49-1-358; Receiving: Montpelier – Smith 9-101, Brink 3-79, Rummel 2-40; Edon – Radabaugh 9-123 , Brigle 3-115, Owens 8-91, Hulbert 7-74
Nate can be reached at sports@thevillagereporter.com