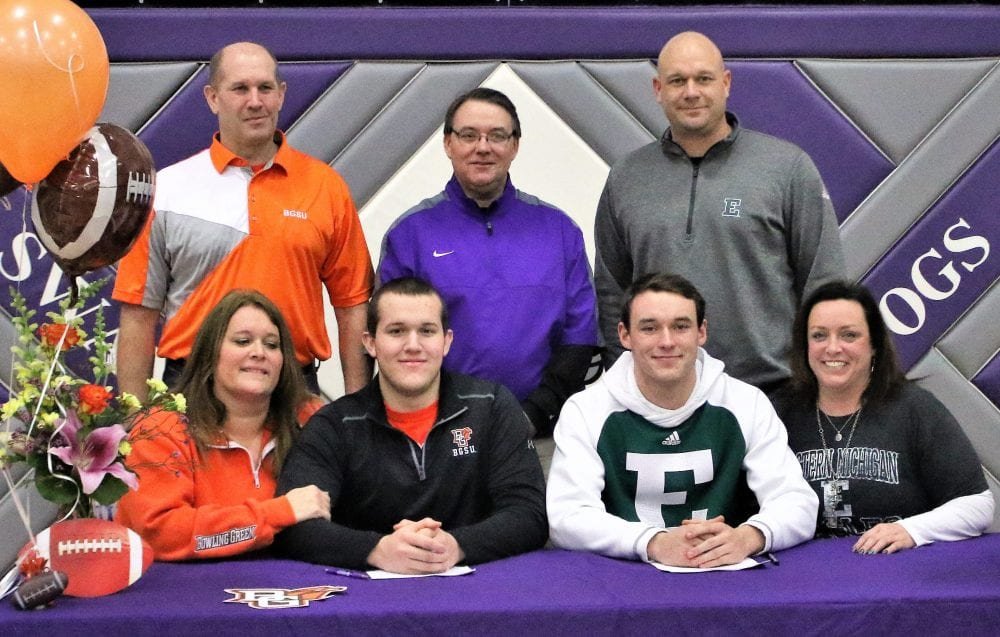 Wednesday, February 1, was National Signing Day when high school athletes across the country were first allowed to sign letters of intent to continue their athletic careers with colleges of their choice. At Swanton High School, with family, friends, students, coaches and several media outlets in attendance, two All-Ohio football Bulldog seniors accepted scholarship offers with Division One football programs.
Lineman Zach Dziengelewski signed with Bowling Green State University of the Mid-American Conference (MAC) and wide receiver Gunnar Oakes signed with Eastern Michigan University, also of the MAC.
Both players were major contributors to the recent successful seasons of the Swanton football program that saw the Bulldogs run off three consecutive winning records that included an NWOAL championship, two playoff appearances and two playoff victories.
"Woody Hayes back in the day said, 'You win with people,' and there's no question these two guys were a huge factor in that," said Swanton football coach Mike Vicars who came to Swanton in 2014 and reinvigorated a long-suffering program. "And not only are they great athletes but they both come from great families, great moms and dads and you can't underestimate that a bit."
Dziengelewski, who will red-shirt his first year as a Falcon, contributes this great opportunity to a strong work ethic in practice and in the weight room, although a two-inch growth spurt between his junior and senior years did not hurt at all. "I am so excited and honored to be a D1 athlete," he said. "I worked so hard every single day. It's a dream come true." Zach will be spending his first year getting acclimated to college life as a student-athlete and expect to challenge for a guard position the year after.
Oakes, who believes he has a good chance of getting playing time as a true freshman, chose the Eagles because of the strong early interest the EMU coaching staff showed in him. "They offered me early and showed a lot of interest in me and they stayed in constant contact," he explained. "I love the coaching staff. I went to their camp and really liked the way they coached."
Gunnar understands the challenges ahead and said the coaches will be looking to add another 30 to 40 pounds to his 6'5" frame and place him at the tight end spot.
Zach and Gunnar will soon be headed in different directions, Zach 30 miles south to Bowling Green and Gunnar almost 60 miles north to Ypsilanti to start the next chapter of their lives. Teammates, classmates and friends for many years, the next time these two share a football field it will be as opponents but always with Swanton Bulldog roots.
Bill O'Connell may be reached at publisher@thevillagereporter.com