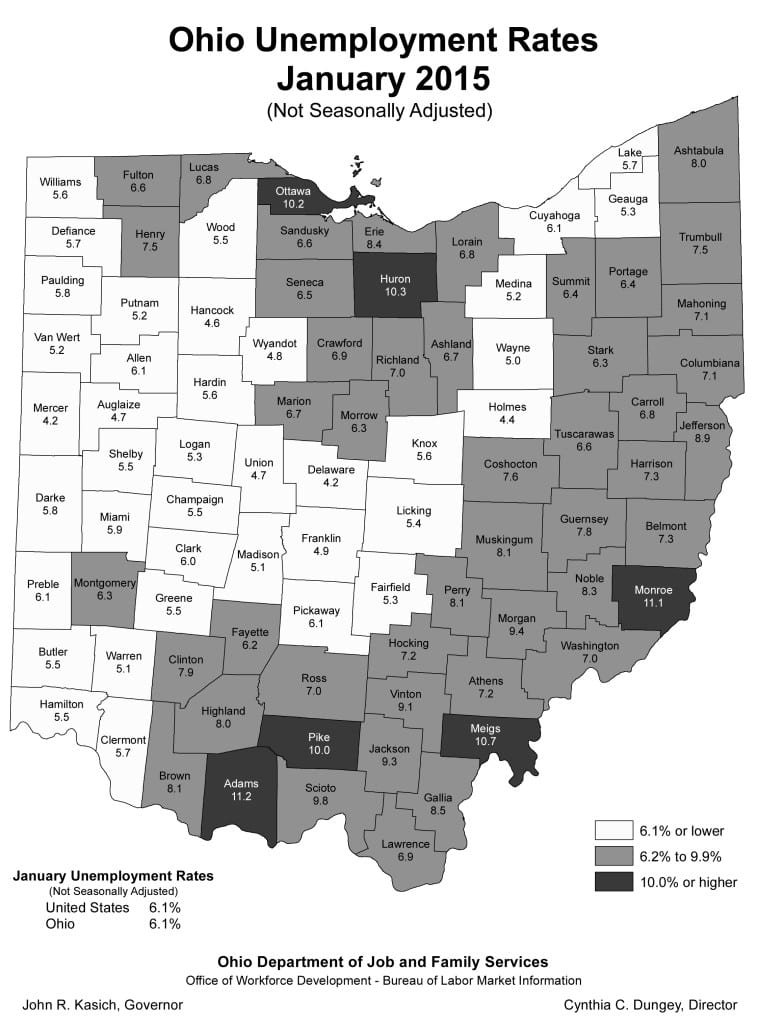 By: Chelsie Firestone
THE VILLAGE REPORTER
According to the statistics released on March 10, both Williams and Fulton Counties once again saw a rise in their unemployment numbers from December 2014 to January 2015. Williams County unemployment jumped from 4.1% in December to 5.6% in January. Fulton County also saw a rise of 1.5%, increasing from 5.1% to 6.6% in the same time frame. Despite the increase, Williams County maintained their position of 63rd in the state rankings while Fulton County fell from 42nd to 34th.
Despite the increase in local numbers, Ohio unemployment remained unchanged at 5.1% from December to January. The number of unemployed over the time frame grew by 1000, from 292,000 in December to 293,000 in January. Ohio unemployment remains down from 12 months ago, when the state unemployment rate was at 6.5% and 371,000 were listed as unemployed. Likewise, the national numbers also saw a slight increase, from 5.6% in December to 5.7% in January, but remain down from the 6.6% unemployed 12 months ago.
Statewide, unemployment rates ranged from as low as 4.2% to as high as 11.2%. Counties with the lowest rates included Delaware (4.2%), Mercer (4.2%), Holmes (4.4%), Hancock (4.6%), Auglaize (4.7%), and Union (4.7%). Counties with the highest rates included Adams (11.2%), Monroe (11.1%), Meigs (10.7%), Huron (10.3%), Ottawa (10.2%), and Pike (10.0%).
Job gains were seen in trade, transportation, and utilities (+12,300); education and healthcare (+10,100); manufacturing (+3600); leisure and hospitality (+3100); professional and business services (+2700); financial activities (+1300); other services (+900); information (+600); and mining and logging (+100). Losses were seen in local government (-4600), state government (-3100), construction (-1400), and federal government (-500).
Ohioans wishing to learn more about unemployment benefits or who are in search of a job can visit www.ohiomeansjobs.com. The information in this article and the monthly statistical analysis it is based upon are also available at http://jfs.ohio.gov/ocomm.
Chelsie can be reached at
chelsie@thevillagereporter.com