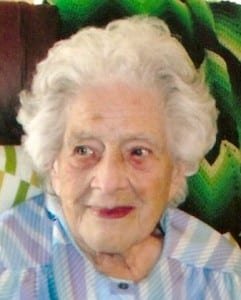 Stryker-Wanda Jane Reynolds, age 95, of Stryker, passed away Sunday afternoon, November 11, 2012 at Bryan Care and Rehabilitation Center. Prior to her retirement she had worked at the Mendelson Egg Company in West Unity for 30 years.
Wanda was born in Montpelier on November 2, 1917, the daughter of Arthur and Ila Mae (Todd) Biddle. In 1934 she married Gerald Shaffer and he preceded her in death in 1938. In 1943 she married Morris Reynolds, and he preceded her in death in 1978. She attended the Presbyterian Church in West Unity.
Surviving is one son, Mick (Judy) Shaffer of Hartsville, TN; two daughters, Paula Hancock of Stryker and Ruth Ann (Robert) Good of Stryker; grandchildren, Gary Shaffer, Theresa Baus, Tim Good, Ed Good, Mike Hancock, Mark Hancock, Michelle Russell, Troy Shaffer and Tracey Shaffer; 19 great-grandchildren and two great-great-grandchildren. She was preceded in death by husbands, Gerald Shaffer and Morris Reynolds; son, Tom Shaffer; grandson, Jim Shaffer; great-grandson, Ricky Baus; son-in-law, Dick Hancock; and six sisters.
Funeral services will be held at 11:00 A.M. Thursday, November 15, 2012 at the Grisier Funeral Home in Stryker, with Pastor Mike Kelly, officiating. Interment will follow in the Floral Grove Cemetery in West Unity. Friends may call at the funeral home on Wednesday from 2:00 P.M. until 8:00 P.M. The family requests that memorial contributions be given to St. Jude Children's Research Hospital. Online condolences may be offered to the family at www.grisierfh.com.