---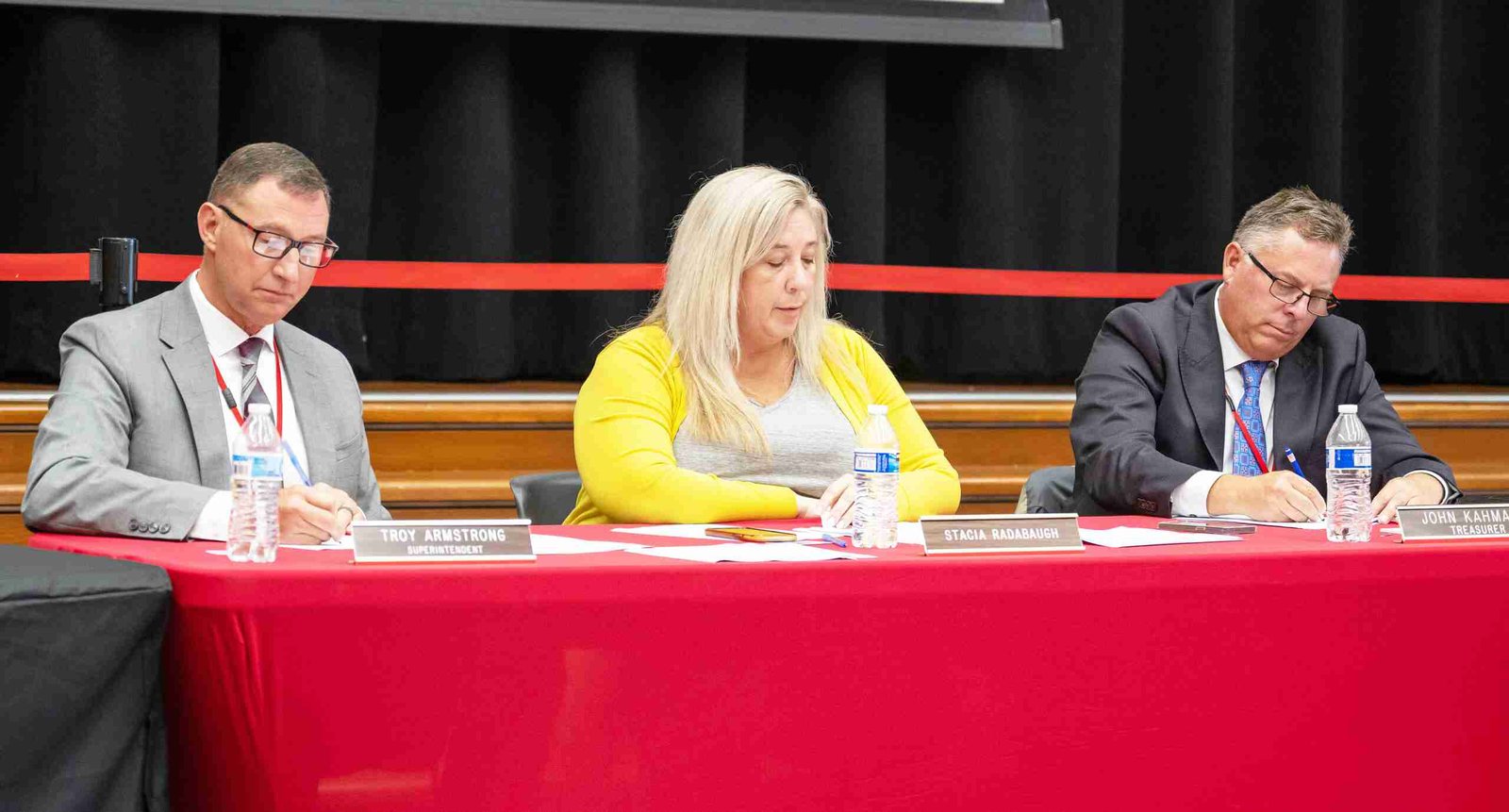 AGENDA … Board members discuss items coming up on the agenda for the meeting that took place on August 8th. (PHOTO BY JACOB KESSLER, STAFF)
---
By: Jacob Kessler
The Wauseon Board of Education held their meeting on Monday, August 8th. The meeting began at 5:30 p.m. with the Pledge of Allegiance. Board members then moved to approve the agenda as presented before moving on to introduce new school staff members.
Minutes for the previous meeting were approved next before hearing of the public took place. The board heard from JB Stevens who asked about contract negotiations and if they had started yet.
He then specifically asked about contracts with bus drivers. The board informed him that the contracts were agreed upon close to two years ago.
The treasurer then gave an update on the status of accounts before the board moved to approve the list of bills and financial report as presented. The following donations were then approved.
$40,414.44 from It All Matters to the Wauseon Exempted Village School District to fund two full-time substitutes for the 2022-2023 school year. $500.00 from the Wauseon Homecoming Committee to the Wauseon Marching Band for their participation in the parade.
Next, a motion to adopt the Ohio Deferred Compensation 457 Roth Option was passed followed by a motion to approve the FY 23 amended appropriations which was also passed.
The superintendent's report followed after with the board moving to approve all personnel recommendations that were made as well as the recommendation to approve an agreement with the Wood County JDC/JRC.
Lastly, board member Stacia Radabaugh read her resignation letter. In the letter, Radabaugh stated that she has accepted a career opportunity that will be taking her family out of state.
The career opportunity and move was unexpected and was a difficult decision, she stated. The resignation will take effect on August 25th, 2022.
With no further business to attend to, the meeting was adjourned at 5:56 p.m. After the meeting Superintendent Armstrong stated that interested candidates for the position should submit a notice of interest, in writing, to the treasurer.
Jacob can be reached at jacob@thevillagereporter.com
---