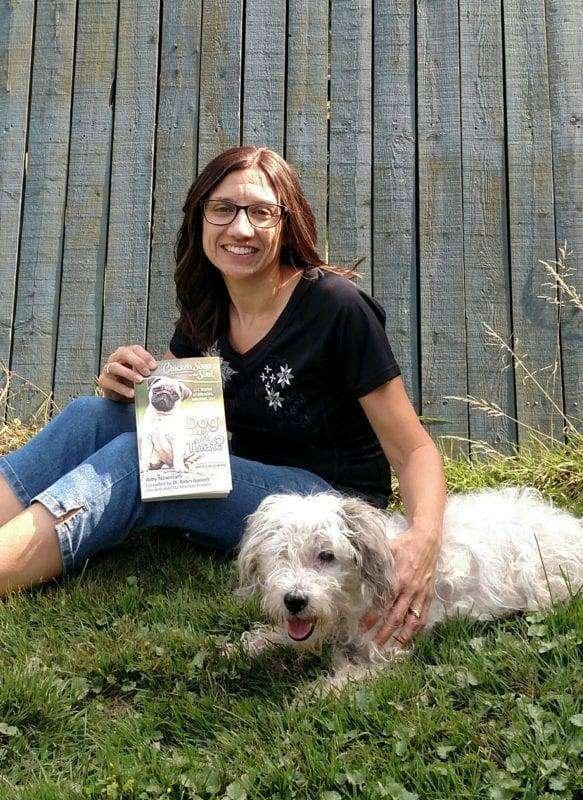 By James Pruitt
A story of about a stray dog in Wauseon and an adopted boy from the Phillippines is now part of the latest "Chicken Soup for the Soul" book series. The book has 101 stories of the theme: "The Dog Really did That?" The Wauseon story was written by Tammy Allison, a married mother of two and is her first piece published in a book.
Allison, 38, is an assisted living facility director and an occasional features writer for The Village Reporter. She wrote about a 7-month-old wire Terrier who wandered into her Wauseon yard on Franklin Street nine years ago. "He quickly became part of the family," Allison said.
The family tried to locate the pup's owners, but to no avail. The family named him Franklin after the street they live on. The Allisons were in the midst of preparing to travel to the Philippines to pick up a 5 1/2 –year-old boy they were to adopt. The puppy was hyperactive and was always getting into the trash can or opening up jars of Nutella, Tammy said, "He turned our calm life upside down," she said.
Little did the family realize but the dog prepared them for what was coming from overseas. Their adopted son was equally hyper and after living with Franklin, they were able to acclimate their new son quickly. "They became very close friends," Allison said about the boy, Jay-R, and Franklin. "It did not take long for him (Jay-R) to adjust. He spoke fluent English in two weeks."
Franklin, now 9, is blind and diabetic. The family gives him two injections of insulin per day, she said. Allison has always enjoyed writing since she was in the fourth grade while growing up in Bryan. Outside of her newspaper articles, she never had anything published. She gained inspiration after attending a Christian writers' conference in Grand Rapids, Michigan, called "The Breeze." "I was encouraged to write and submit stories," Allison said. "I have also a devotion in "The Secret Place".
"I am very excited to say the least. The story featured a crazy dog and a son I adore." The piece captures her love of writing and dogs, she said. In addition to Franklin the family has a Chocolate Lab named Sadie. The lab came to the Allisons after her original family had to give her up.
Tammy has been married to Kory for 19 ½ years. The pair were high school sweethearts in Bryan. They have a daughter who is a sophomore at Anderson University. "My daughter is calm and quiet," Allison said. The family has channeled Jay-R's energy into sports as he plays soccer. "He has lots of energy," she said about the 13-year-old.
The Dog Really Did That? Chicken Soup for the Soul supports the American Humane Society with royalties from its new book. For more information, visit www.chickensoup.com, @chickensoupsoul www.facebook.com/chickensoupforthesoul Chicken Soup for the Soul: The Dog Really Did That? $14.95
---