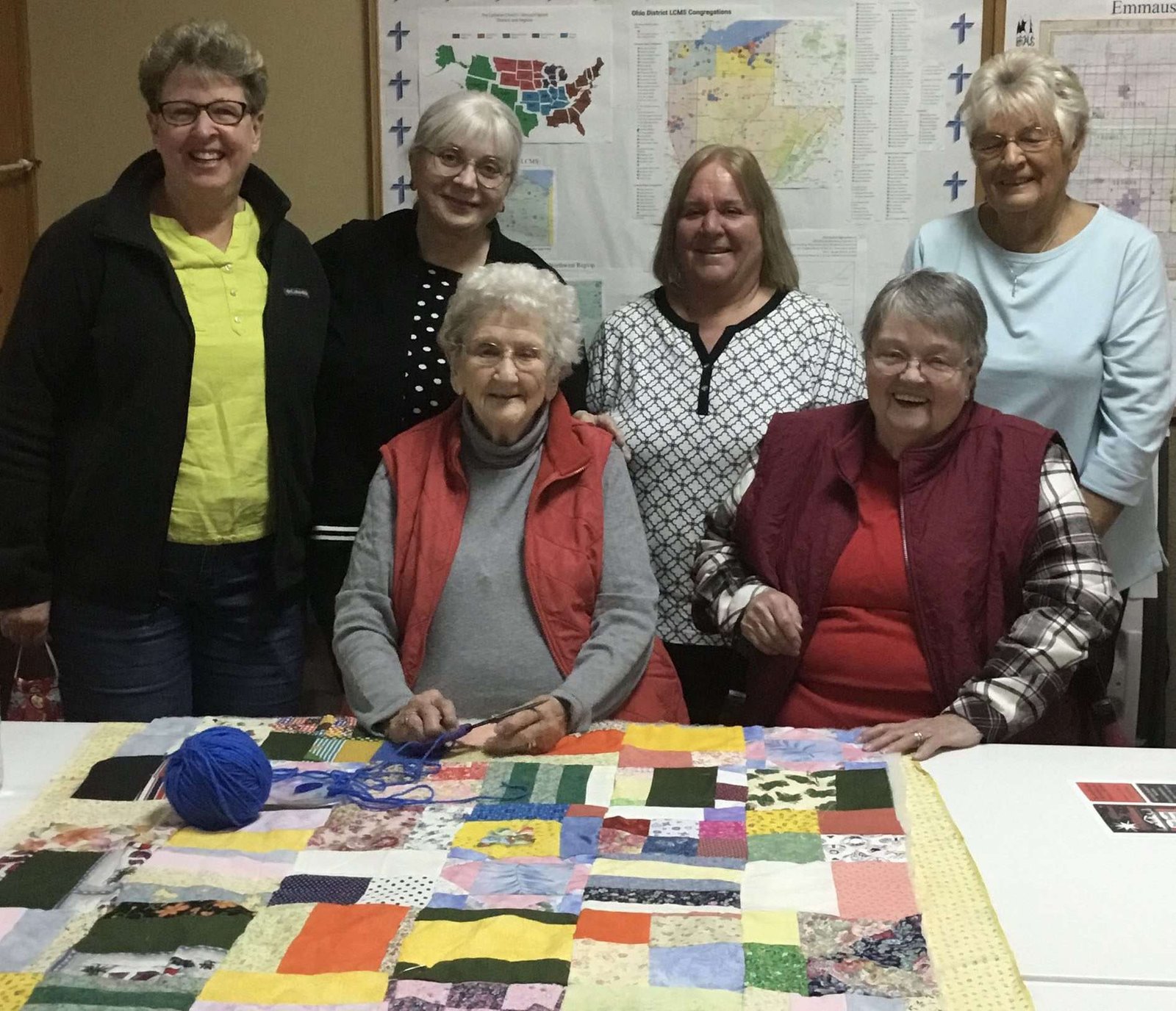 TUESDAYS WITH ARLENE … This lovely group of ladies who attend Emmaus Lutheran Church in Wauseon, are busily involved in ministry. They gather on Tuesdays to quilt, making Comfort Quilts that are mostly lap blanket sized. Standing in the back are Chris Schlueter, Karen Wilson, Edith Beachy and Sue Boysel. Seated in the places of honor are Lois Tester and Terry Volkman. Lois pieced this quilt which was their gathering place for a photo. Smiles and laughter, visiting and fellowship are as much a part of their time together as the finished product of Comfort Blankets to be given to those in need. (PHOTOS BY REBECCA MILLER, STAFF)
---
By: Rebecca Miller
Hundreds of comfort blankets have been given out over the years by a loving group of ladies who gather to work in the making of said pieces of love.
The story of reaching out to share God's love in the surrounding area has been going on for years. Lois Tester, who is in her 90's, has been quilting with this group ever since it started in the 1960's.
For decades the blankets were made all year long and given away during December to a ministry called Christmas Cheer. Many groups still do this, but this specific group decided to focus on other organizations.
Some of the places to which they have donated included Sara's Garden Hyperbaric Chamber, New Horizon's School with Sara's Garden, the Graduating Pre-School Students at their church's preschool, Sunshine Family Care Home in Archbold, the Ohio Soldiers and Sailors in Sandusky, some of the vets returning from the 180th at the Toledo Airport, VFW Dad's Post 240 for the National Convention, Suicide Awareness Benefit, SART (to help children of sexual abuse), Devita Dialysis, Disaster Relief through the Red Cross, Missionaries in Ft. Wayne, and area Nursing Homes.
They also give out comfort blankets to other individual benefits and to their congregational members when they go through surgeries and other difficult circumstances. Sometimes community members reach out to them with a need and they have stepped up to help them as well.
"We try to help anyone who has a need as long as we have blankets to do so," Edith Beachy explained. They are always open to help and they welcome a phone call if someone knows of a need for a Comfort Blanket.
It was explained by the group that though they do give out some blankets during the year, most of them are kept in bins until the first Sunday of December.
On that date, the men of the church carry all the bins to the sanctuary and help hang the blankets on the pews for the "Blessing of the Blankets." Afterwards, they help fold them all back up again and put them back into the bins to be given to the chosen groups for that year.
"Every blanket is prayed over before it is given away, whether it is during the Blessing of the Blankets or not. We feel strongly that our prayers are needed for anyone who receives a blanket and so we cover them in prayer," one of the ladies said during a group interview.
A few other things have changed as they adjust to what they want to accomplish and how to best do that. One of those changes to their mission is that they have a rather new name as one of their faithful members, Arlene Pennington, passed away about four years ago and they have re-named the group "Tuesdays With Arlene" in honor and memory of her.
They liked the name of a book called Tuesdays with Maury by Mitch Albom, and so they combined their desire to never forget Arlene with that book title.
Another change is that they now use only cotton and try to stick with new materials. In the past they used whatever they could get there hands on such as curtains, sheets and mattress pads, but now they accept donations of cotton material, which they store in bins by color.
---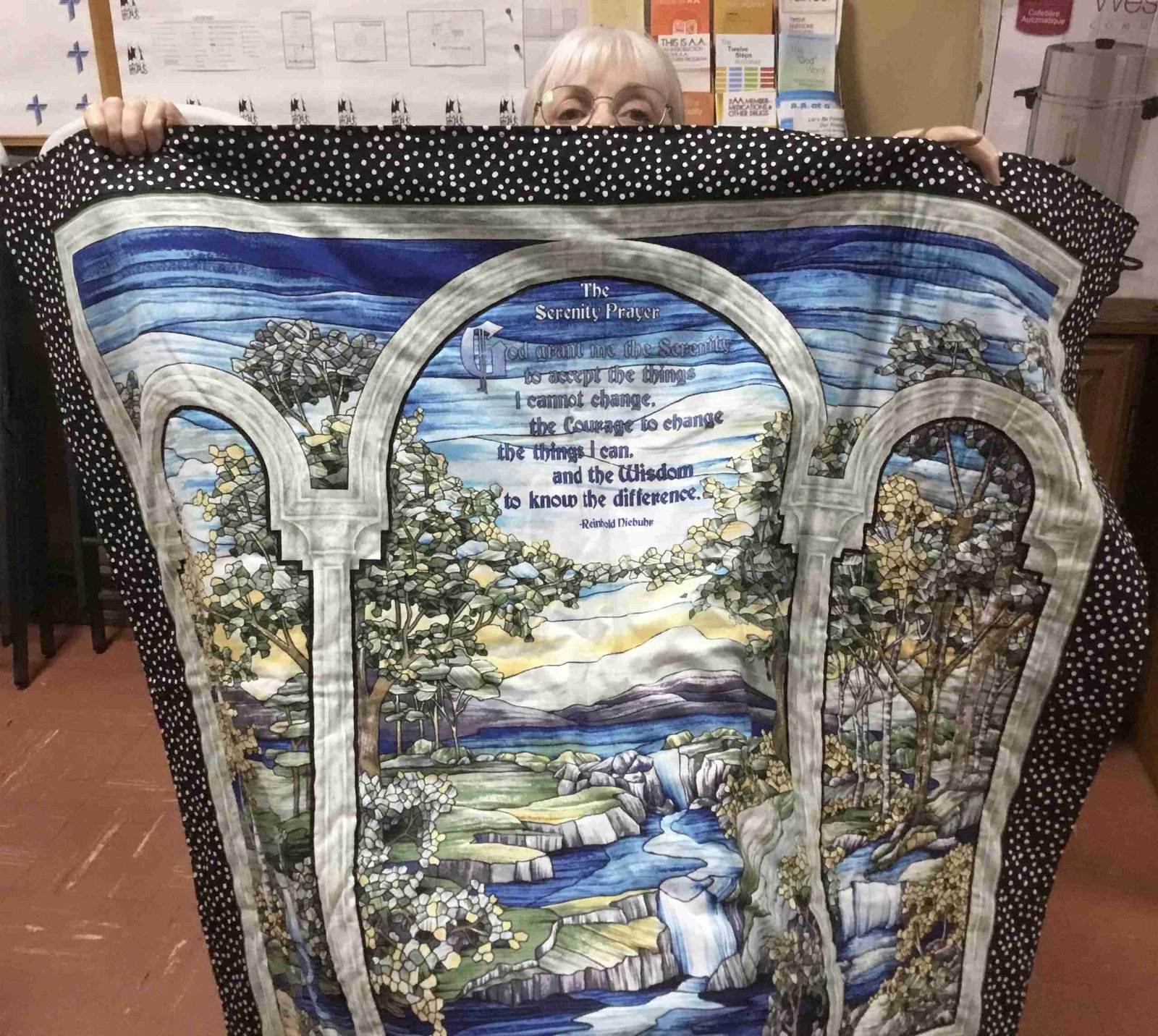 COMPLETED BLANKET … Peaking over the top of this gorgeous blanket with the comforting and strengthening message of The Serenity Prayer, is Karen Wilson who says she is so blessed to be a part of this group and comes to sit and listen and learn.
---
The scrap donations come from anyone anywhere, but are now all cotton as that material does not bother people.
They do put flannel on for the backing but it is preached before it is sewn on. It was pointed out that "Nothing is wasted!" They use every scrap they can use and anything that can't be used is bagged up and given to some farmers in Cecil, Ohio who make them into Rag Rugs, during winter when they can't work in the fields.
The group, which fluctuates between two to eight members, gathers on Tuesdays from around 9-1, to sew, tie, and visit. They piece the tops together, put borders on them, put in the batting that makes it soft and comfortable, sew on the flannel backing, tie them and finish them before they are are folded and put in the totes.
Sometimes they have ladies who come just for the fellowship. They all have many happy memories of their quilting in the Fellowship Hall. Before Covid they almost always had food as well and they hope to get back to that.
The blankets are absolutely delightful! Some are beautiful, some are cute, and some are very specific such as the recently pieced "combat blankets" which Lois Tester pieced out of the scraps they had left from veterans blankets they had made.
The combat blankets cover all five of the military branches and are quite stunning. On some other blanket tops she used stripes, and these have become some of the blankets they have given for healing, as in Isaiah 55:3 it says, "by His stripes we are healed."
Besides the joy of making them, the ladies have memories that go with seeing the faces of some who receive a blanket.
They will never forget the great joy of a a PreSchool graduate who got a Cowboy themed blanket. He was ecstatic and held onto it the whole time they were celebrating, not interested in much of anything else, other than this wonderful blanket he had been given.
The group shared how grateful they are to everyone who has helped them with materials, thread, batting or any other supplies, that have made all this outreach possible.
Rebecca can be reached at rebecca@thevillagereporter.com
---