---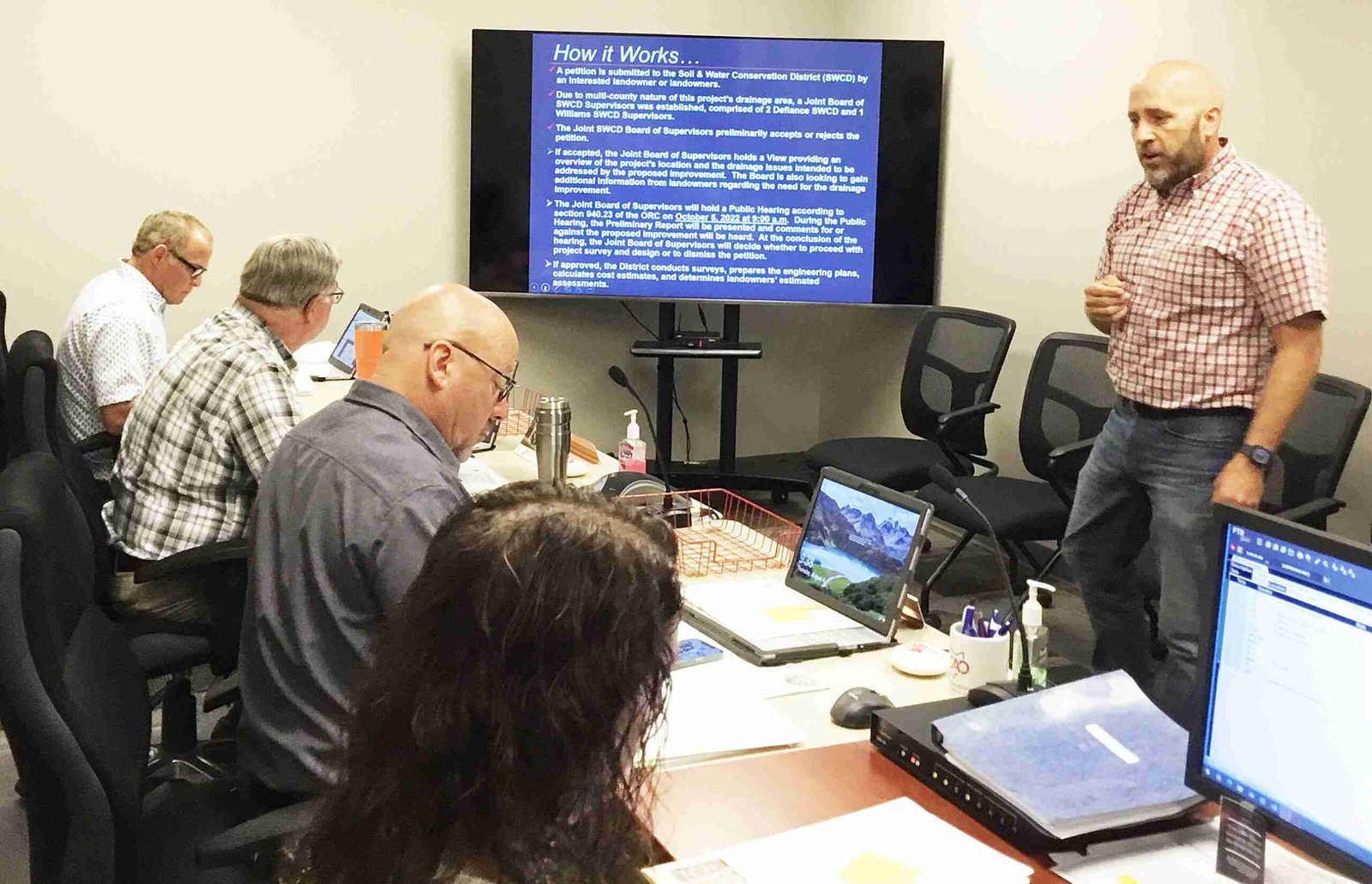 DEFIANCE SOIL AND WATER … During the August 4, 2022 meeting of the Williams County Commissioners, Jason Roehrig from Defiance Soil and Water shared extensive information about an issue with Mud Creek and Dry Creek in Defiance County that affects a small portion of Williams County residents who live in the watershed. (PHOTO BY REBECCA MILLER, STAFF)
---
By: Rebecca Miller
Monday morning, August 1, 2022, began for the Williams County Commissioners with an 8:30 a.m. EMS Monthly Meeting at EMS office with Chief Kyle Brigle.
At 10 a.m. they met in their new chambers at the East Annex for some regular business and two executive sessions.
In regular business, the Commissioners approved:
-Resolution 212 Supplemental Appropriations
-Resolution 213 Contract Extension on behalf of Job and Family Services
-Resolution 214 Permanent Maintenance Collection Rates for Fiscal Year 2023
-Also Signed: Travel request for Commissioner Terry Rummel to attend Workforce Family and Children Symposium in Newark, Ohio; Maumee Valley Planning Organization Housing Semi-Annual Program Income Report and ED RLF Semi Annual report; purchase documents from Stykemain for Engineer's purchase of 2022 CMC Sierra
-Minutes dated July 28, 2022 and payment of bills
At 10:04, Commissioner Lew Hilkert made a motion to go into executive session "in regards to security matters."
He requested that EMA/911 Executive Director Apryl McClaine, TAC/Training Coordinator Heather Mercer, Public Safety Systems Administrator Mike Levy, IT Manager Jeremy Suffel,
Commissioner Elect Bart Westfall, and Clerk Anne Retcher stay for the executive session. At 10:31 they came out of that session with no action.
Commissioner Hilkert asked that they enter back into executive session "in regard to employment" and asked that McClaine, Mercer, Levy, Westfall and Retcher remain for that.
They came out of the second executive session with no action, as well and with no further business, adjourned for the day.
Thursday morning, August 4, 2022, began much the same, but with an 8:30 EMA/911 Monthly Meeting with Apryl McClaine EMA Director. At 9:30, they began their general session, approving:
-Resolution 215 Transfer of Appropriations
-Resolution 216 Entering into a Contract between Williams County Engineering and cleaning services
-Resolution 217 Entering into a Contract between Williams County Commissioners and Wilson Group, Inc. for the courthouse window replacement project, at a cost not to exceed $1,788,435
-Also signed – weekly report from Dog Warden for last week of July; monthly report from Dog Warden for July; credit card expenditures for prosecutor's office; financial analysis report for July 2022 from the auditor
-Minutes of previous meeting and payment of bills
The Commissioners chose to move directly into the meeting scheduled to talk about a Joint County Ditch issue with Mud Creek and Dry Creek.
Jason Roehrig from Defiance Soil and Water, was present to share information with the commissioners.
Williams County is slightly affected by these two creeks in Defiance County as there are residents who live in the watershed.
Roehrig explained the project overview and then went into quite a bit of detail, showing slides to help with the information and a six-minute group of pictures taken by a drone of the creeks and the log jams that need to be cleaned out.
The overview stated, "A petition was received from a Defiance County landowner to improve drainage throughout Mud and Dry Creeks.
Petitioner is concerned about current flooding and the overall channel capacity of both creeks. For Mud Creek specifically, concern stems from the previous drainage improvement (log jam and leaning tree removal) of the Lost Creek project potentially putting more demand on Mud Creek as well as additional drainage projects currently petitioned at the top end of Lost Creek."
The drainage area has 37,412 acres with 98% of those in Defiance County and 2% in Williams. There are 1,479 parcels with the same division, with only 2 % of those in Williams County.
He stated, "Due to extensive drainage area, adjacent 100-year floodplains, largely forested riparian areas, and potential riparian wetland areas, the only feasible/allowable activity is performing log jam and leaning tree removal. No disturbance of stream bed/banks below the ordinary highwater mark" is allowed.
The Joint Board of Supervisors will complete the Preliminary Report and hold a Public Hearing according to section 940.23 of the Ohio Revised Code on Wednesday, October 5, 2022 at 9 a.m. at the Sherwood VFW.
The commissioners pointed out that it would be wise for any Williams County residents in the Mud Creek/Dry Creek watershed, to attend that meeting. The preliminary report will be available online, prior to the public hearing, at www.defianceswcd.org/muddry-creek-22-01.html.
If the project is approved, land owners' assessments would be mailed after the project is completed.
The commissioners thanked Roehrig for coming and sharing the information on this issue. With no further business, they adjourned for the day.
Rebecca can be reached at rebecca@thevillagereporter.com
---