---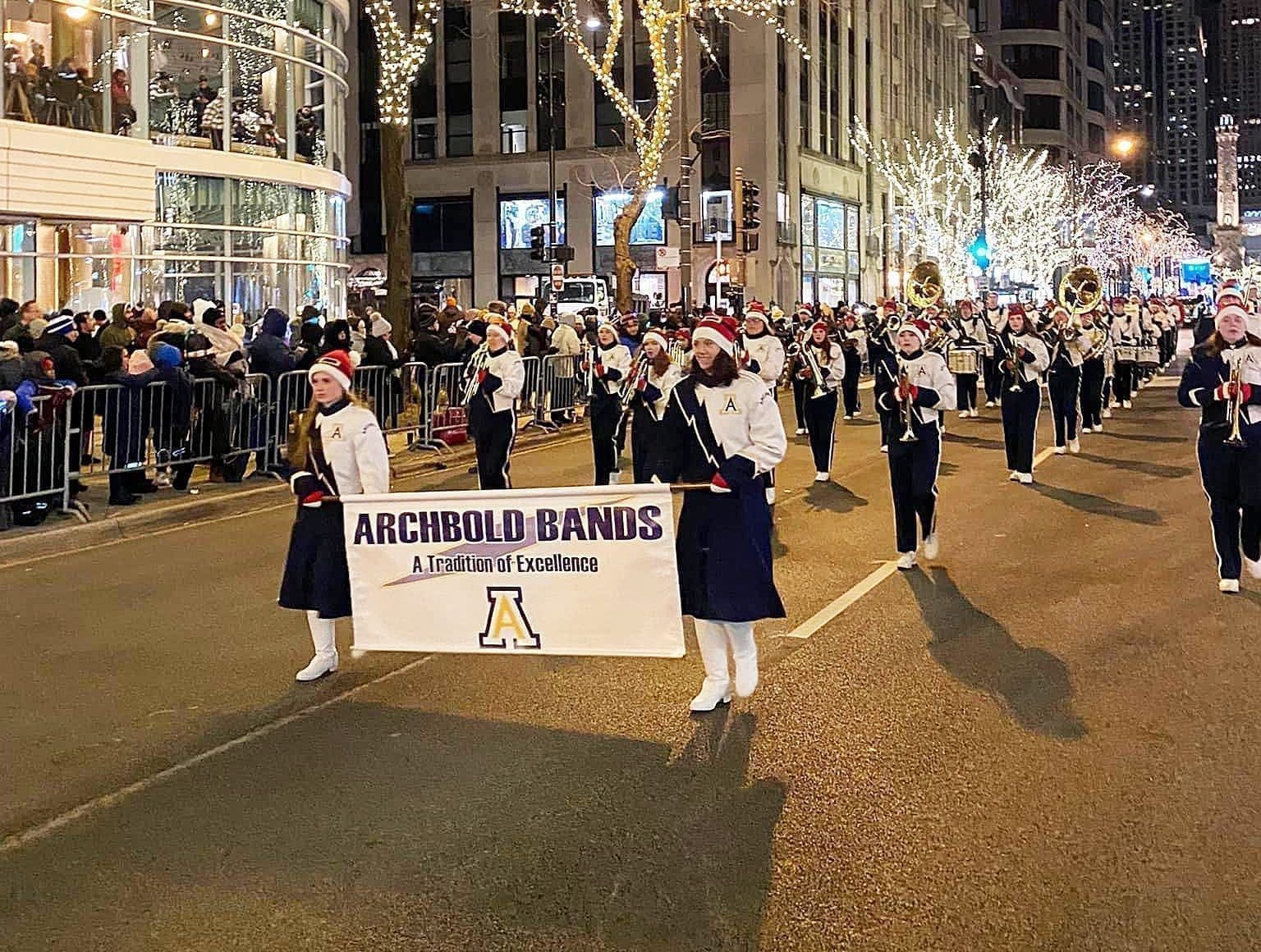 ARCHBOLD CHEERING SECTION … Thousands were in attendance for the parade including the Archbold High School Choir, trip chaperones, and several Archbold families. (PHOTO PROVIDED)
---
By:  Amy Wendt
Excitement was in the frigid air as the Archbold Bluestreak Band anxiously awaited their turn to step off in the 31st Magnificent Mile Lights Festival Parade held in Chicago on Saturday, November 19, 2022.
Despite the cold, thousands of spectators lined the Michigan Avenue parade route to take in the sights and sounds of the holiday season.
The parade featured floats, giant balloons, and musical performances by celebrity artists the Pointer Sisters, The Spinners, Debbie Gibson, Winterlicious, and C&C Music Factory.
In addition to the stars, four high school marching bands, including Archbold High School, made the parade lineup.
"The Windy City lived up to its name," said Band Director Beth Yoder.  "It was very windy and very cold."
The band waited for two hours before they actually began the parade route but once they started marching, they warmed up quickly.
It took about an hour to complete the route because of the slow pace of the parade.
Yoder was impressed by the students' behavior and response to the inclement weather.
"They were super positive and excited about the experience…Their spirits were lifted in the cold even though it was miserable conditions because they were choosing to look at it in a positive way which was really cool to see," Yoder noted.
The Archbold High School Choir, trip chaperones, and several Archbold families also braved the blustery winds to cheer on their fellow Bluestreaks along the parade route.
"It was fun having that cheering section there," commented Yoder.
In addition to participating in the iconic holiday parade, both the band and the choir performed at the Field Museum and attended instructional clinics at the Vandercook College of Music where they received direction from some of the college's professors.
The students were able to have a little fun on their trip as well by enjoying some of the Windy City's popular attractions including the Shedd Aquarium, Hancock Tower, Gino's Pizza, Hard Rock Cafe, and Cloud Gate "The Bean."
Students also were treated to the live musical "Wicked" at Broadway In Chicago's James M. Nederlander Theatre.
Yoder added, "many of the students have never been to a large city like Chicago so it was really cool to see their responses."
Yoder offered thanks to those who made it possible for the kids to have such an amazing experience.
"The band boosters and the vocal music boosters were super helpful…because they gave $100 to each of those students in those ensembles to help them pay for the trip."
Yoder also added, "the Home Restaurant here in Archbold actually sent us with this massive container of snacks for us to have along the way and water and that was very helpful too."
"We're just very thankful for the community's support that we felt all the way to Chicago and back."
Amy can be reached at publisher@thevillagereporter.com
---