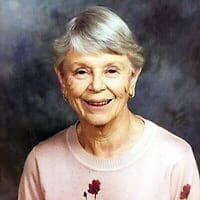 (Graduated From Bryan High School In 1957)
Carol Mae (Castor) Eschhofen, 83, went home to meet her Lord on October 14, 2023.  Carol was born in Wauseon, Ohio, to the late Merle Williams and Margaretta (Arnold) Castor.
She graduated from Bryan High School in 1957. She married Buddie Eschhofen on Sept. 28, 1958, and he preceded her in death in 2017.
She returned to school after her children were grown, and graduated summa cum laude from Defiance College in 1996 with a degree in history and museum studies and a minor in fine art.
Carol enjoyed being a stay-at-home mom until her children entered school, then joined her parents' family business, Bryan Heating Supply.
She was the bookkeeper for the family farm, helped raise ostriches, worked in marketing at the Ohio Art Company and was Curator of the Williams County Historical Society.
When her children were small, she was a Girl Scout leader and Cub Scout Den Mother. She enjoyed following the athletic and musical activities of her children, grandchildren, and great-grandchildren.
She was president of the American Field Service and her family hosted two exchange students: Kriselle Baker of New Zealand in 1978-79 and Hans Bogaert of Belgium in 1981-82.
With her husband and family, she travelled and camped to all lower 48 states and most of the Canadian Provinces, and later visited Hawaii, Alaska, and New Zealand.
Carol was a charter member of the Bryan Madrigal Chorale, acted in several Williams County Play Shop productions, served on the Williams County Community Concert Association Board, the United Way Board and was President of Church Women United.
She enjoyed needlework, writing, and painting; she completed barn murals, painted ostrich eggs and crafted torn paper art, and late in life wrote and published three children's historical fiction books and numerous devotionals.
Carol was a member of First Lutheran Church in Bryan for 75 years, where she served as council member, director of music and teacher.
At age 80, she joined the First Presbyterian Church in Bryan to worship with her family. She was active in the Bryan Great Banquet Community and considered her family her true God-given mission field.
Carol is survived by her son Christopher (Diana Moore) Eschhofen of Bryan; daughters, Anne (Jerry) Ankney of Ney and Amy (Robert) Wismer of Powell, OH; grandsons Eric (Stefanie) Ankney of Defiance, Tyler Ankney of Midlothoan, VA, Nicholas (Emily) Eschhofen of Bryan and Jason Eschhofen (Olivia Gacka) of Memphis, TN; great-grandchildren Justin and Codey Ankney, Parker and Levi Ankney, Joseph, Annalee, and Abigail Mae Eschhofen; three step-grandchildren, and numerous step-great and great-great grandchildren.
Visitation will be Friday, October 20, 2023, from 3:00 – 7:00 p.m. in the Oberlin-Turnbull Funeral Home, 206 North Lynn Street, Bryan. Visitation will continue on Saturday, October 21, 2023, at First Presbyterian Church, 506 Oxford Drive, Bryan, beginning at 10:00 a.m.
Memorial Services will follow at 11:00 a.m. Saturday, with Pastor Leo Pech officiating. Private interment will be made in Shiffler Cemetery, Bryan.
Those planning an expression of sympathy are asked to consider memorials be directed to Bryan First Presbyterian Church, Bryan Great Banquet Community or Community Health Professionals Inpatient Hospice Center, Defiance.
Condolences may be sent or the online guest book signed at www.oberlinturnbull.com
---