---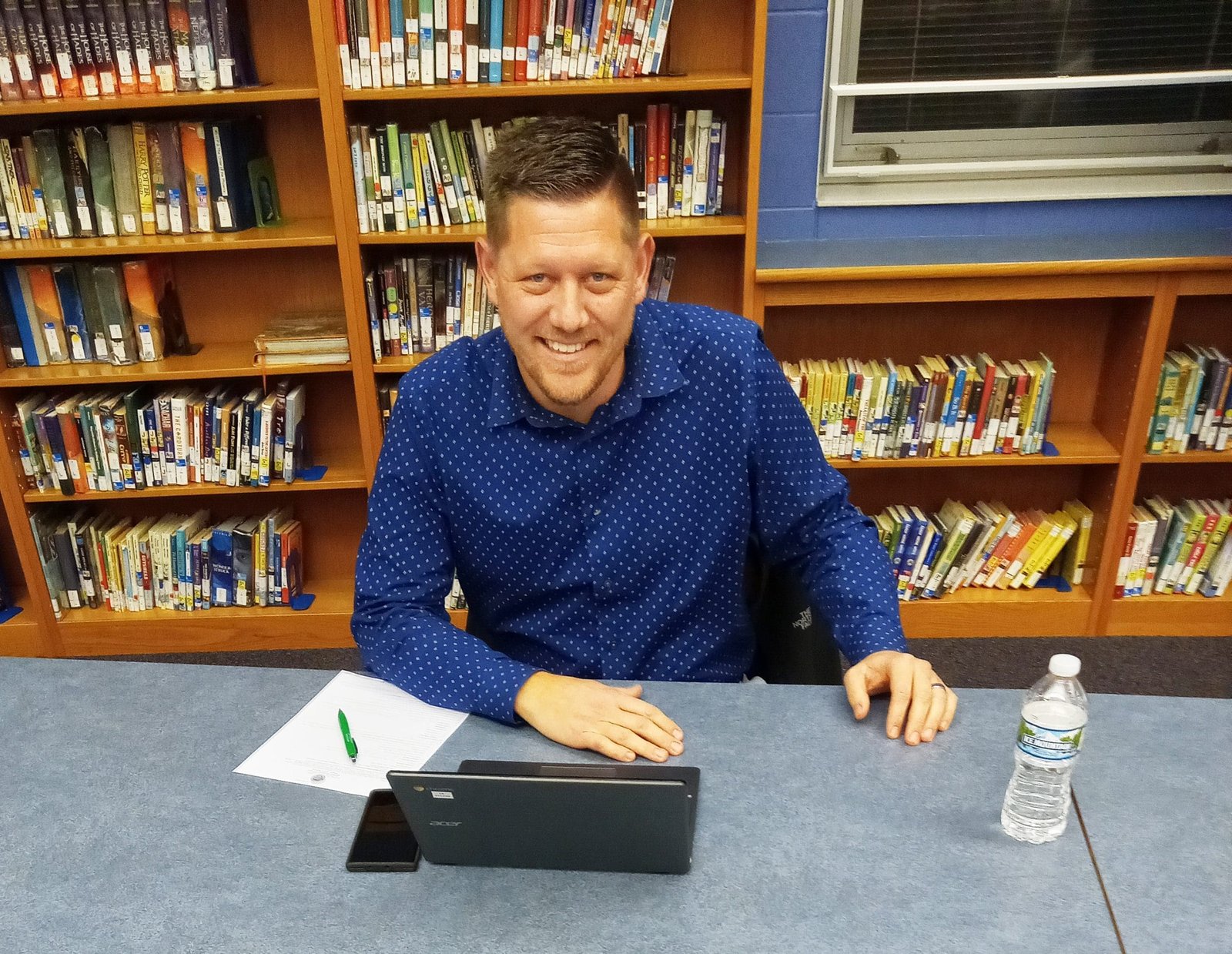 SCHOOL BOARD PRESIDENT … Cody Best prepares to begin the February 13 meeting. (PHOTO BY DANIEL COOLEY, STAFF)
---
By: Daniel Cooley
The Edon School Board meeting of February 13 began with the Pledge of Allegiance, followed by roll call.
School board members are Cody Best, Jamie Schaffter, Patty Eicher, Ashley Reed and David Wehrle.
In the first order of business, the board approved the minutes from the previous January 9 meeting.
The board then approved of the following consent agenda items: the financial reports for January 2023; the amended certificate request from the county auditor; donations; the NWOESC January Paraprofessional and teacher substitution lists; a resolution for membership in the OHSAA (Ohio High School Athletic Association) for the 2023-24 school year and an overnight trip for a senior retreat on March 25-26.
In the high school principal's report, Kayla Lapham reported that scheduling for the 2023-24 school year has been worked on.
National dates for ACT tests for juniors have the following dates: February 11 (recently concluded), along with upcoming dates March 10 and March 24 and April 15.
Also, Edon eighth graders recently took a tour of the Four County Career Center.
In the elementary school report, Jennifer Ripke said that the school recently completed the 100th day of school for the year and dyslexia training for staff is currently taking place.
In the superintendent's report, Anthony Stevens recently met with a representative from Leslie Coating and was given two options.
Stevens stated that he is choosing the cheaper of the two options, which is to have the track patched and sprayed and then lined.
With this option, Stevens feels that the district should be able to get 3-5 more years out of the track.
In action items, the board approved of the following items: a resolution accepting the amounts and rates from the Budget Commission, which will authorize the necessary tax levies and then certifying them to the county auditor; the contract for teacher Rachel Palmer; the contract for teacher Elaine Schaffter; supplemental contracts; a contract for choir accompanist services for Marie Moore; setting  the substitute custodian salary schedule; setting the second/third shift custodian salary schedule; the contract for spring intervention teachers; the compensation for dyslexia training for staff who are required to be trained and the quitclaim deed to Copperform Properties, plus a statement of reason of exemption from the Real Property Conveyance Fee Form.
Then the school board moved into executive session.
Dan can be reached at publisher@thevillagereporter.com
---