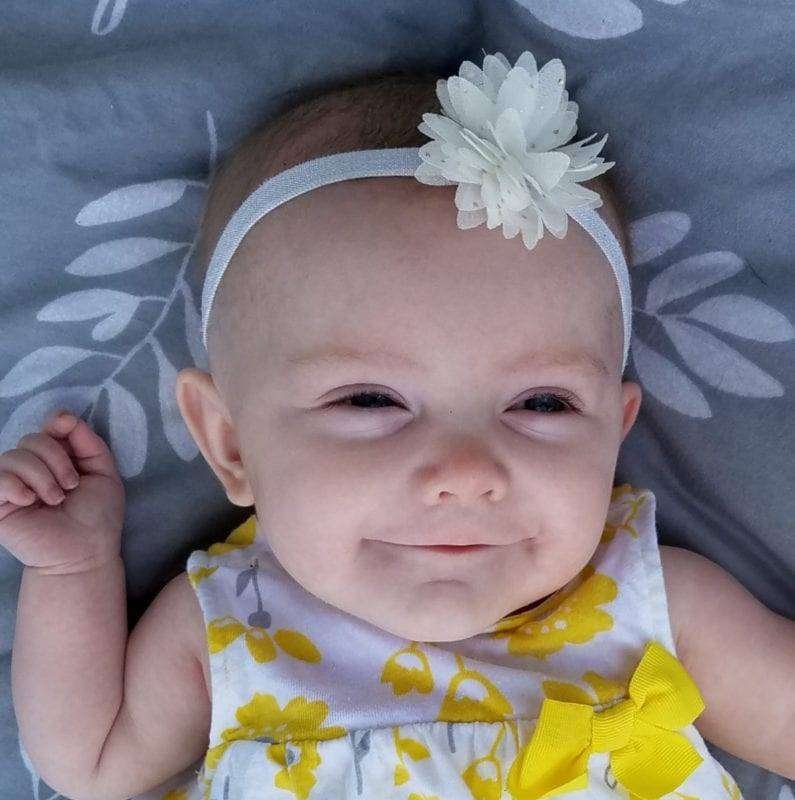 Eleanor "Ellie" Rose Knapp, infant daughter of Allen and Amanda (Meyers) Knapp was welcomed into Heaven on July 2, 2019 when she passed away at St. Vincent Mercy Medical Center in Toledo. Ellie was born in Toledo on February 6, 2019. 
Left to cherish her memory are parents Allen and Amanda; brother, Hunter; paternal grandparents, Dennis (Deborah) Knapp; maternal grandparents, Troy Meyers and Judi (Dan) Wilson; maternal great grandmother, Diane Meyers and many loving aunts, uncle and cousins. 
Ellie was a beautiful little girl. She was always happy, smiling and babbling.  Some of the things she loved were laughing at mommy and Hunter's silly faces and grabbing daddy's beard. A few things she had the opportunity to do were riding in daddy's semi truck, going to the butterfly house and seeing fireworks.
She has only ever known smiles and laughs, snuggles and kisses. In her short time here Ellie has made a difference in the world. She brought joy to everyone she ever met. Ellie was also able to do something beyond great by becoming a hero and helping to save other children's lives.  Through her gift of organ donation her memory will live on in the lives of others. 
Visitation with the family will be held on Monday, July 8, 2019 from 10:00 AM – 12 Noon at Barnes Funeral Chapel, 5825 St Hwy 109 in Delta; where a funeral service for Ellie will begin at 12:00 Noon on Monday. Interment will be private for the family. 
Those wishing a show of sympathy are asked to consider contributions to the family. Please visit our website at www.barnesfuneralchapel.com to send condolences to her family.
---