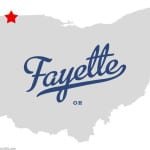 The Fayette Local Board of Education opened their March 11 meeting by going directly into executive session, returning and opening regular session 50 minutes later.
The Board approved the financial reports for February, and donations of $63.55 from the First Federal Bank to purchase wallet mini-diplomas for 2013 graduating seniors, and 50.00 from Whalen Realty for the FFA. The Board also gave their consent to the following tax rates…[emember_protected custom_msg="Full content protected for online subscribers. Purchase a one week subscription from the top menu bar for just $1.99 to read all online content (full access). Longer subscription plans are also available. Subscriptions cover our costs to attend local events; bringing forth Hometown News Coverage to our communities."]
General Fund
Inside Millage (4.5 mills) $204,349
Outside Millage (43.2 mills) $974,561
Bond
Outside Millage (7.1 mills) $322,417
Permanent Improvement (Maintenance)
Outside Millage (0.50 mills) $18,268
The Board approved the Park Agreement with the Village of Fayette Local School for 2013-2014 school year for $3,500.00, and adopted the revised board policies from Neola. The Board approved a five-year contract with Pitney Bowes for a digital meter mailing system and associated service agreement at $107.00 per month. The Board approved the selection of Julian & Grube, Inc. to provide agreed-upon procedures for cost reports intended for the Medicaid Audit Review for periods of July 1, 2011 to June 30, 2012, and July 1, 2012 to June 30, 2013, at a cost of $1,700.00 each period.
The Board approved the Elementary Student Handbook for 2013-2014, and also gave their consent to a day trip for the 2013 Seniors to the Kalahari Resort in Sandusky on May 10, leaving the school at 9:00 am and returning by 12:00 am.
In matters related to personnel, the Board accepted the resignation of Marilyn Kinsman, Director of Food Service, effective June 30, 2013. Jenny Bates and Jason Bryant were approved as Softball Co-coaches, and Dan Feasel was awarded a one year contract as Junior High/High School Principal beginning August 1, 2013 through July 31, 2014.[/emember_protected]