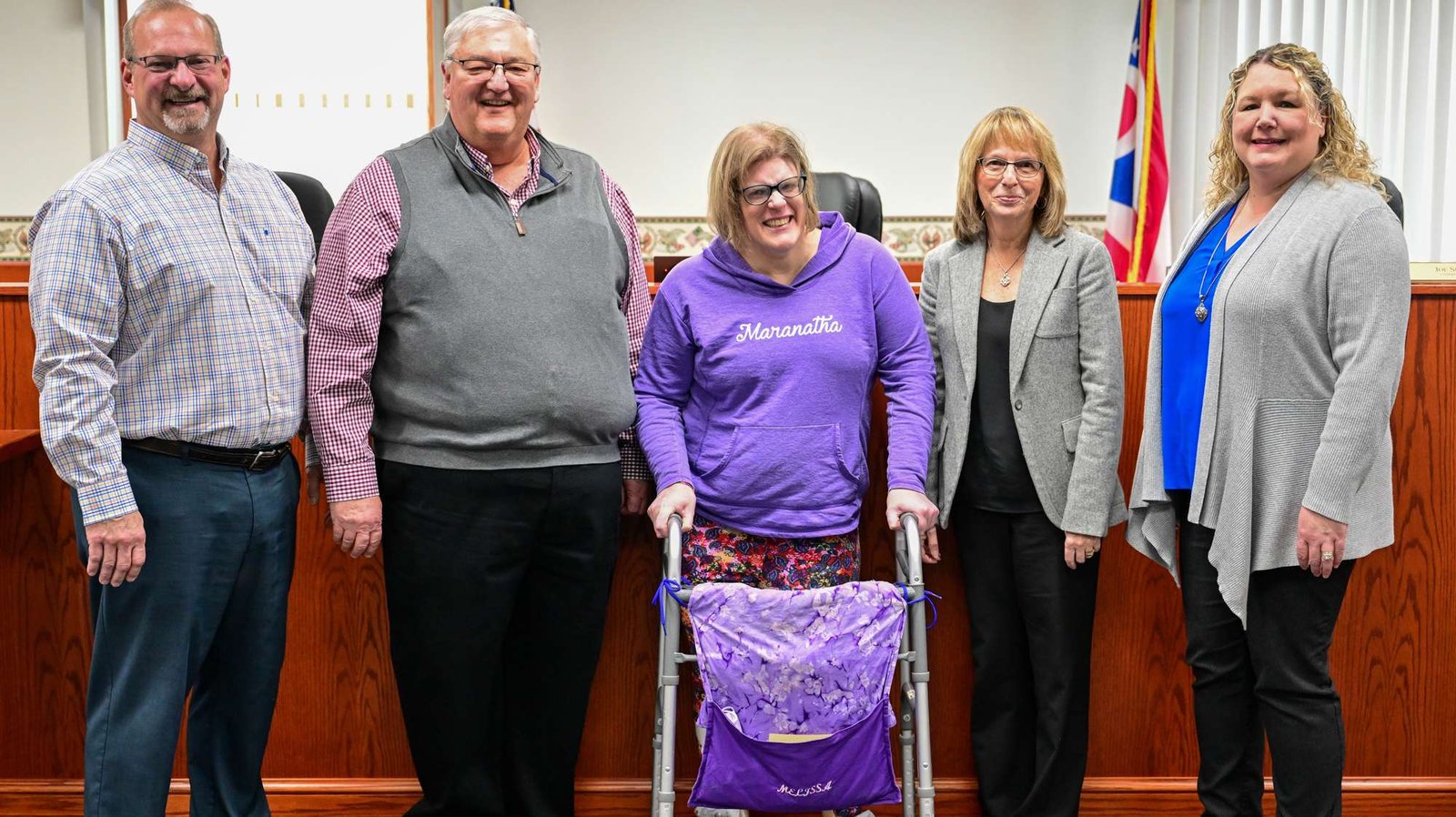 PROCLAMATION… Commissioners Joe Short and Jon Rupp stand with Melissa Rupp, Beth Friess, and Robin Schepherd after Commissioners proclaimed March 2022 as Developmental Disabilities Awareness Month in Fulton County. (PHOTO BY JACOB KESSLER, STAFF)
---
By: Jacob Kessler
The Fulton County Commissioners held one meeting this week with the first meeting on Tuesday being cancelled.
The meeting on Thursday, March 10th was called to order at 8:59 a.m. and was followed by a prayer and the Pledge of Allegiance. During the prayer, Commissioner Jon Rupp offered his thoughts to the people of Ukraine.
After, Commissioners moved to approve the minutes from the previous meeting which took place on March 3rd. The current agenda was also approved as presented. Next, a review took place for the following items.
The February 2022 Interest Earnings Report, the Certificate of Estimated Resources, the Certificate of Non-Compliance, and the Treasurer to Auditor Balancing Report. Commissioners then learned of a new petition for Ditch-2146 in Clinton Township.
Commissioners moved to set the viewing for the ditch on April 19th with the hearing being set for March 19th. The following agenda items were then approved by the Commissioners. An increase and transfer for appropriations for various departments.
Authorization for the advertisement of bids for the Runway 9/27 Rehabilitation Project. Approval for pay request one for contract 2021-65 with Urethane Foam Specialists, LTD for the 2021 County Bridge Painting Program.
The transfer of funds for internal services. Approved oversight for contract 2022-31 with the Ohio Teaching Family Association for IV-E services on behalf of JFS.
Approved a personnel action regarding D. Martinez on behalf of the JFS. Approved the annual Indigent Defense Agreements 2022-32 though 2022-38.
Awarded a bid for the Bridge 2A.4 replacement on behalf of the County Engineer. Authorized advertisements for an employment opportunity on behalf of the JFS for a Public Assistance Specialist/CSR. Approved purchase orders and travel requests as presented.
Commissioners then heard from Beth Friess who is the Board of Developmental Disabilities Director. She came to speak to Commissioners regarding March and Developmental Disabilities Awareness Month. 25 years ago this month, President Ronald Regan declared March National Developmental Disabilities month Beth explained.
She continued on by saying that the words the President used at the time were, "I invite all individuals agencies and organizations concerned with the problem of developmental disabilities to exert this month with appropriate observances and activities directed towards increasing public awareness of the needs and the potential of Americans with developmental disabilities," said Friess.
She continued and advised Commissioners that they are serving over 360 people in Fulton County and that their goal is to bring awareness through everyones participation.
Following the presentation by Friess, Commissioners moved to proclaim March 2022 as Developmental Disabilities Awareness Month. Following the proclamation, the meeting was adjourned at 9:14 a.m.
Jacob can be reached at jacob@thevillagereporter.com
---