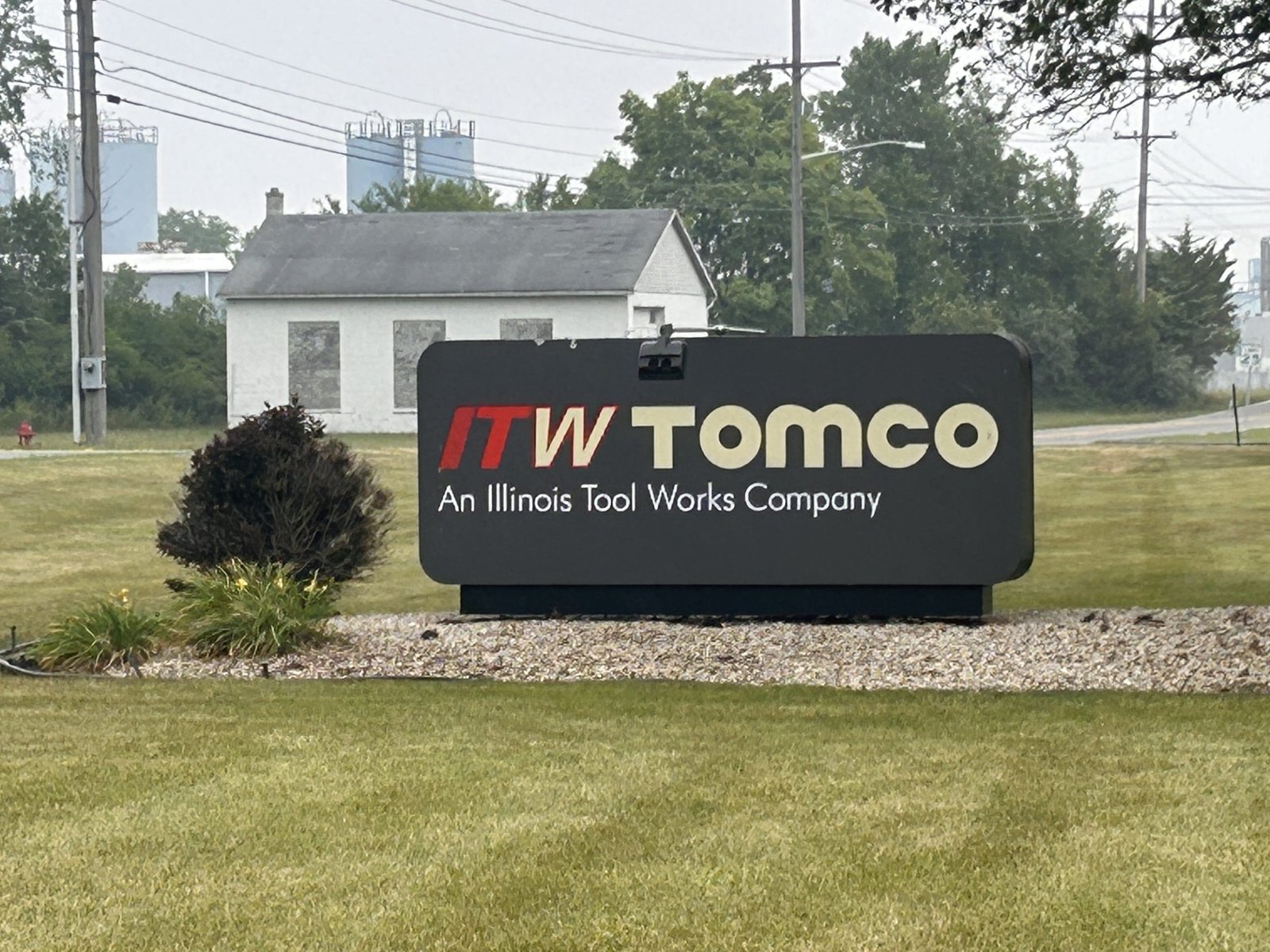 By:  Amy Wendt
THE VILLAGE REPORTER
Global manufacturing company ITW-Tomco is making its mark in Bryan as it aims to contribute to the area's growth and establish stronger ties within the community.
Tomco Plastic Inc., founded in 1969 by Tom Noneman and Tom Smith, held a significant place in the injection molding industry.  In 2000, the Bryan company was purchased by ITW (Illinois Tool Works) and became known as ITW-Tomco.
Jacob Wasson, U.S. Operations Manager at ITW-Tomco, explains that over the years, the corporation has transformed, launching its enterprise strategy in 2012 to enhance profitability and focus on areas of growth.
Now, in 2023, the path has been paved for expansion at the Bryan facility, with several million dollars already invested into the plant.
Over the last couple of decades, ITW recognized the exceptional talent present among its very own workforce.
The employees at the ITW-Tomco facility in Bryan have become experts in safety-related vehicle component testing.
This expertise, combined with their technical skills and experience, made the Bryan plant an ideal location for growth and expansion.
According to Engineering Manager Joe Davis, the work conducted at the Bryan facility focuses on injection molding and engineered products, including safety-related and performance-related components for vehicles.
As the automotive industry undergoes a transition from injection combustion engine vehicles (ICE) to battery electric vehicles (BEVs), ITW-Tomco is at the forefront of this evolution as they have already secured multi-million dollar contracts with major automotive manufacturers, including Stellantis, Ford, and GM, for BEV-related projects.
With its current expansion plans, ITW-Tomco is also tripling the size of its current testing lab facility.
Test Engineer Tom Wannemacher explains that this larger space will allow for comprehensive end-of-life testing to ensure their products meet world-class standards.
Additionally, upon completion of the new and improved lab, ITW-Tomco will begin to perform rigorous testing on components from other ITW plants across North America.
As ITW-Tomco continues to experience significant growth and expansion, the company remains equally committed to engagement with the community.
The company actively participates in events, such as the annual Bryan Jubilee Parade.  Last year, the plant hosted an open-house event inviting community members to learn more about its operations.
Tammy Dopp, Plant Manager shared that ITW also takes an active role in supporting local programs.  They proudly sponsor local softball teams, organize an annual carnival to raise funds for the United Way, and actively contribute to initiatives like Christmas for Kids.
Throughout the year, the 70 ITW-Tomco employees also generously donate to causes, including the humane society, local food pantries, the Sanctuary Homeless Shelter, and Veterans Services.
ITW-Tomco's dedication to growth and community engagement is evident.  Through its investment in Bryan, the forward-thinking company not only generates economic opportunities but also aims to nurture a stronger sense of community.
As ITW continues to flourish and expand, the positive impacts will be long-lasting, benefiting both the company and the community for years to come.
Amy can be reached at amy@thevillagereporter.com
---