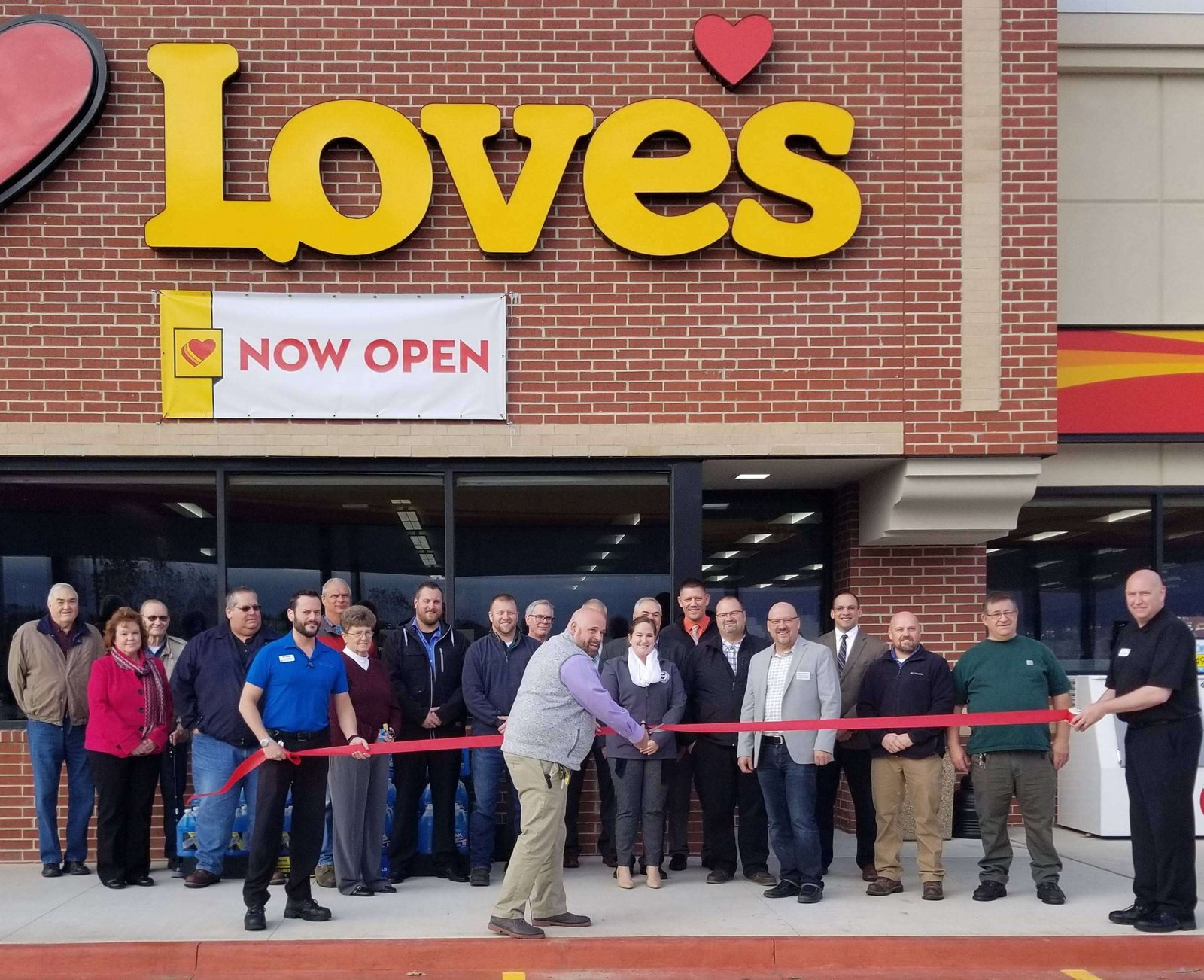 ---
By: Timothy Kays
It's been a long time coming. There have been delays for everything from change orders to battling a highly uncooperative Mother Nature. Despite all the annoying little snafus along the way, the irresistible force that is Love's Travel Stops pushed forward with their plans to open a huge facility at Exit 2 of the Ohio Turnpike north of Edon.
On October 10, two new Love's Travel Stops opened their doors for business…one in St. Clair, Michigan, and the other, the 500th Love's Travel Stop, north of Edon.
Truck transportation has been the lifeblood of American commerce for decades, and Love's, headquartered in Oklahoma City, Oklahoma, has been serving the trucking industry since 1964. You can't miss the new Love's Travel Stop at Exit 2.
More than 8,000 square feet in size, this facility is open 24/7, offering amenities galore, and on a grand scale. For the over-the-road truck driver there are 111 dedicated truck parking spaces, nine diesel bays, laundry facilities, seven showers, a CAT scale, and a Speedco location on-site.
A member of the Love's Travel Stop family, Speedco provides services specialized for the over-the-road trucker such as tires, oil changes and preventative maintenance, light mechanical work, transmission and gearbox services and roadside assistance.
While the new Love's Travel Stop at Exit 2 is obviously heavily geared toward serving the transportation industry, it also offers a welcome respite for anyone driving a non-commercial vehicle. Family-friendly from front to back, it offers seven gasoline / diesel pumps, and parking for 63 cars and 4 RVs.
Whether the driver is transporting their family or a load of furniture, the new Love's Travel Stop has all the bases covered for everyone, offering Bean to Cup gourmet coffee, brand-name snacks, a Fresh Kitchen concept with a deli that is stocked with everything from fresh-cut fruit, to ready-to-go goodies on four roller grills.
There is a dog park on the north side of the property, and the latest electronics from CB radios to GPS systems, power inverters, radar detectors, dash cams, Bluetooth headphones and more can be found at the Mobile To Go Zone. Adding a huge Arby's Restaurant and a fully stocked convenience store to the mix makes this facility the new shining star of Northwest Ohio.
The new Love's Travel Stop at Exit 2 has provided 60 new jobs for Williams County, and those new employees, along with General Manager Adam Lyons, hit the ground running at full speed when the doors first opened for business. "This is the 500th Love's Travel Stop location," Lyons said.
"We opened the 10th. It's just a great location here where we're at; it's just outstanding with a no-toll exit right up here on 49. As far as the store and what we offer, we obviously have the diesel fuel; that's our big, big seller…gas. We've got the showers for truckers; we have trucker laundry. We have quite a bit of mobile accessories and things for the car traveler. We have our Arby's here; we have our deli program where we do things like the hot dogs and fresh cut fruit, and Bean to Cup coffee."
Speaking about the truck services provided by the new Love's, Lyons said, "We have 111 parking spots. 111 puts us sort of average for Love's; not huge. We also have the truck tires here, but that's not quite open yet. That usually opens about a month after the store opens, and we'll do light mechanical work, as well as tires there. And then there's also emergency roadside service…just for trucks though; we don't do anything for passenger cars. Trucks keep us busy enough. If we had to do cars, it would about double the size of the facility.
With the October 10 ribbon cutting, the traffic has been beating a path to the door of Love's. "We've opened very busy," Lyons said, "…and it's been really successful so far. It's been great so far; it's been awesome…as soon as we opened the doors on day #1. Typically these grow kind of slow for us, but day #1, as soon as people on the Turnpike saw we're open. You always get the locals to come and see when you're new in the area, but the business off of 80 has been outstanding so far."
As far as local traffic goes, Lyons said that there's plenty of that as well. "Oh, definitely," he said. "There was just a couple of Amish guys over that I'm sure were local. They're not probably not coming down the Turnpike. Honestly it's hard to tell. Obviously our staff is all local, so we were getting their families in, but as far as the mix of local and highway traffic, I'm not sure. The highway has been good so far, and that's just going to grow.
DONATION … Love's Travel stop makes a donation to Four County Career Center. (PHOTOS PROVIDED)
---
Eventually we'll have some locals sitting at these tables. I would say the local support and enthusiasm from the community has been great. I've heard nothing but positives. People are excited to have us here, which is nice because sometimes we don't get that. We had the ribbon cutting, and quite a few local dignitaries came out from Williams County and from Edon…all offering their encouragement and support."
Love's Travel Stops has built strong community ties everywhere they have built, and their partnership with Williams County, the Edon Economic Development Corporation, the Edon Northwest School District and the Four County Career Center is vibrant beyond the 30-year tax increment financing zone approved for the venture earlier this year. "It's been a strong partnership," Lyons stated emphatically.
"Most of that was handled at corporate, but some of those folks were here for the ribbon cutting. I know they've been working hard on getting us here and helping us with any issues throughout the construction that we had. It's just been very supportive." Putting their words into action, Love's presented a check for $2,000 to the Four County Career Center during the Grand Opening ceremonies.
"It's obviously a big milestone for Love's to hit 500," said Lyons. Cory Whitman of Love's added, "The 400th store wasn't that long ago…maybe three or four years. We're growing at a pretty rapid rate here. We're opening 40 to 50 a year, so we'll be at 700 pretty quickly."
That is serious growth, and while October 10 saw two new Travel Stops opening, it wasn't anything new for Love's. "Our record is four stores in one day," Whitman said. "We did that last year."
Timothy can be reached at tim@thevillagereporter.com
---