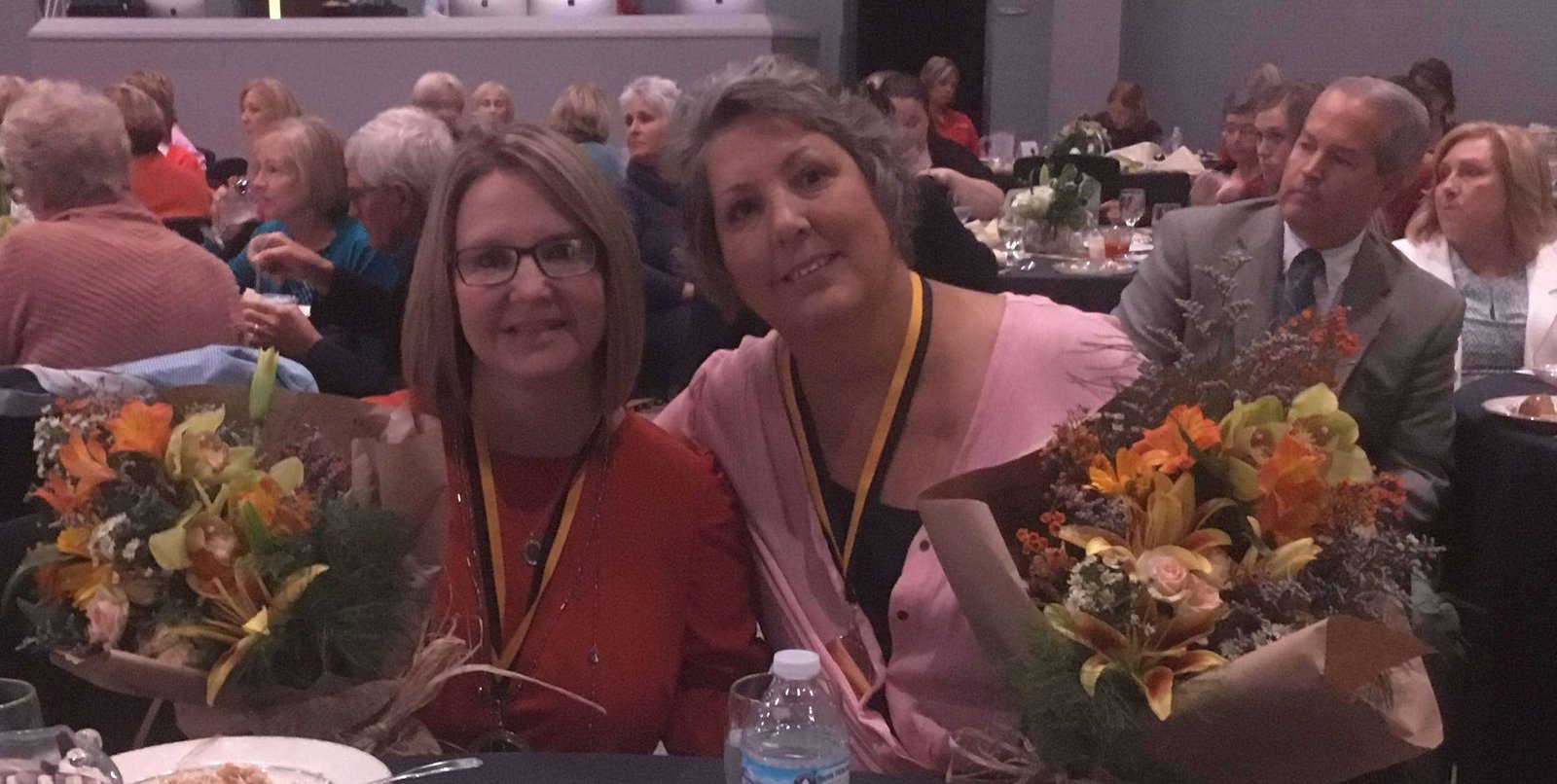 SMILING THROUGH TEARS … These two lovely ladies received medals and flowers at the second annual Michelle Bard Geary Community Cancer Symposium on October 17, 2019. On the left is Amy Beck who was given the Super Caregiver award for the year and beside her is Lana Keppeler who received the Super Survivor award.
---
By: Rebecca Miller
On Thursday, October 17, 2019, area medical care givers and community members gathered in a banquet room at New Hope Community Church in Bryan, Ohio, to stand together against cancer.
The Michelle Bard Geary Community Cancer Symposium was sponsored by the Jim and Joan Bard family in memory of their daughter Michelle who lost her life to cancer in January of 2018.
The family first approached the (CHWC) Community Hospitals and Wellness Center in Bryan, or as it is called by area residents, Bryan Hospital, a few months later to present their idea of a Cancer Symposium in her memory.
They offered to be the sponsors, and explained that they wanted to design it to help with the education of the medical community and to encourage those who are dealing with cancer. They also shared the idea of having a recognizable speaker that would help to draw in community members. The first Annual Michelle Bard Geary Cancer Symposium was held in the fall of 2018 and was a great success, with Chris Spielman, two time All American at Ohio State and eleven year professional football veteran, as the keynote speaker.
Angelia Foster, who holds the position of Executive Vice President at the hospital, and is presently co-chair with Kim Owen, of the Cancer Symposium Committee, said that attendance at the 2018 Symposium was sold out with 150 openings. This year, with the realization that they could host more in the space that they are using at New Hope, they offered 180 tickets and it sold out again.
She expressed that they are very happy with the turnout and the great interest in this event. It not only offers the community an occasion to hear a great Keynote Speaker, but gives the medical community Continuing Medical Education (CME) Sessions. CHWC CEO and President Chad Tinkel, who moved into that position six months ago, from his thirteen years there as Chief Financial Officer, said that when they approached him about holding the second one, he was immediately on board.
"Based on the first year's success," said Tinkel, "I said absolutely. It is a great opportunity for all of us to be more educated in the fight against cancer." The committee is under the direction of Tinkel, but he quickly gives the credit to those on the committee who work so hard to make it happen and to the James and Joan Bard family who make it possible.
Foster explained that the committee is made up of employees at CHWC or the Parkview Medical Center, as well as Karla Batt from the American Cancer Society and Rachel Aeschliman from the Williams County Health Department. The committee members from CHWC and PMC are Kim Owen, Dr. Shannon Kiel, Jan David, Angelia Foster, Jamie Marshall, Kelly Colon, Jess Hesgard, Kim Kozumplik, Cathy Day and Ben Fiser.
At the event this group of leaders were joined by a number of volunteers, to assist in making the day a great success, and could be welcoming everyone, assisting those in attendance to their tables, and generally taking care of the technical side of putting on such an affair.
Previous to and following the luncheon and Keynote Speaker, there were five CME classes offered, with those in attendance choosing one in the morning and one in the afternoon. The morning sessions included Colorectal Cancer Among Young Patients with presenter Dr. Michael Liu and Gynecological Cancers with Dr. Hassouneh as the presenter. In the afternoon, the selections were Palliative Care in Oncology with Dr. Joseph McCollom and Rural vs. Urban Barriers to Care with Dr. Sushil Jain, with a general session for all on Collaboration in Cancer Care with Dr. Neil Sharma.
Also available in the morning, to those who preregistered, were Head and Neck Screenings with Dr. Michael Nosanov and Dermatology Screenings with Dr. Melissa Williams and Holli Zeedyk, CNP. In the afternoon, the wrap up event was a panel discussion moderated by Dr. Michael Thomson, featuring discussion with cancer survivors Angelia Foster and Lana Keppeler, and caregiver Amy Beck.
Right around 11:30 a.m. Mr. Tinkel welcomed everyone and New Hope Pastor Mike Elkins opened with prayer. A memorial video was shown of Michelle, with family members sharing their memories of her. Things that were mentioned were her ability to see all sides of an issue, how she looked for all avenues of cancer treatment available to her, that she never let labels define her and that she continued to thrive no matter what.
After the video, Michelle's sister, Pam Bard Steele, said, "Our family sponsors this symposium to help and inspire others. We hope this gives you strength to keep fighting." Mrs. Steele then presented a Super Survivor medal and flowers to Lana Keppeler, who has been an inspiration to all by her fight against inflammatory breast cancer.
A Super Caregiver Award and flowers were given to Amy Beck, who not only lost her husband, Robert, to stage four colon cancer, in May 2014, but is now fighting cancer with her 20 year old son, who was there to see her receive the recognition. Both ladies were honored by short videos they had made and many tears were shed.
Also while guests were enjoying a delicious meal, prepared and served by Grants Catering, the Williams County Health Commissioner James Watkins and Health Department staff member Megan Riley who is Director of Health Education and Emergency Preparedness, gave an update on the progress made on their work concerning Social Determinants of Health.
At the first annual MBG Symposium, the Health Department shared their Social Determinants of Health findings and this year they reported what action they have taken using the data. Watkins told the audience that they joined up with BGSU to work together in strategic planning so that it will be completely evidence based. "It takes time, but we look forward to bringing strategic alignment," he said as they ended their presentation.
PHOTO OPPORTUNITY … Olympic Champion Shannon Miller posed at the photography booth with the sponsors of the second Annual Michelle Bard Geary Community Cancer Symposium which was held at New Hope Community Church in Bryan, Ohio on October 17, 2019. From left to right are Michelle's parents, James and Joan Bard, Shannon Miller, Michelle's sister Pam Bard Steele and her husband Bill Steele. (PHOTOS BY REBECCA MILLER, STAFF)
---
Keynote Speaker, Shannon Miller, received a very warm welcome. Miller is best known for becoming the most decorated Olympic gymnast in U.S. History when she won the Gold in 1996 for her incredible Balance Beam program (which can be seen on YouTube) and was a member of the gold medal-winning Magnificent Seven team, that same year. The video of her balance beam program was shown to the lunchers, and Miller laughed as she said sometimes she wonders if that was real or ever really happened.
She wove the life lessons she had learned while growing up and becoming the kind of person who could fall many times and yet win the title of best in the world in gymnastics, with her story of going through ovarian cancer and coming out a Survivor. Miller shared that in 2004 she was diagnosed with ovarian cancer when she rescheduled an appointment for a yearly check-up rather than canceling it because her life was "too busy."
She was actually on the phone to cancel the appointment when she realized she had to keep it because she needed to practice what she preached, that women need to take care of their health.
As she shared, she made it clear that having cancer and going through all the decision making, the chemo, the fear, the hair loss, the new vocabulary you have to learn, the loneliness and all that comes with it are hard!
BUT…she also encouraged everyone that they do not HAVE to go through it alone, that there is a huge support system of people who can help. Family, friends, and organizations are all ready to step up and lighten the load. She shared how hard, but how important it is to get past that need to be independent and let others help.
Shannon Miller fought through and is a survivor. Now she is a strong advocate for early detection and taking care of yourself. She thanked the Bard family for bringing her and said that she was glad to be able to share her story and hopes it is encouraging to many.
The event was well covered by the media, as before it began, Andy Brigle of WBNO radio in Bryan interviewed Shannon Miller live from the lobby at New Hope; Victoria Dugger of WTOL 11 TV was present for the speech; the Bryan Times had photographer Josh Ewers taking pictures; and we, The Village Reporter, were there to cover it.
Plans for next year will be set into motion soon, as the committee wraps up this year's event and determines the next step.
Rebecca can be reached at publisher@thevillagereporter.com
---