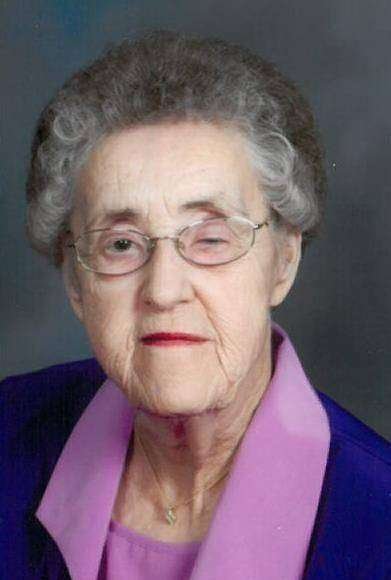 Mildred Irene Durbin, age 90, of Archbold, passed away Monday, February 2, 2015 at Defiance Area Inpatient Hospice.
Born June 22, 1924, to James H. and Emily Jane (Larimer) Hockman, Mildred was raised on a Logan County farm with siblings Charles, Margaret, Orla and Lola, all of whom she survived.
Twice married and widowed—Albert L. Taylor (1955 to 1967) and Robert J. Durbin (1974 to 2002)—Mildred was always the beloved and respected matriarch of her appreciative stepfamily—children Jennifer and Stephen Durbin, John and Terry Taylor, Eric and Diane Durbin, Michael and Mary Ann Durbin, and Sister Maria Engracia (Deborah Uhl née Durbin), 19 grandchildren and 11 great grandchildren.
Living through the Great Depression and WWII, careers in the public and private workplace, losing her first husband too early, caring for her second husband in his decline, plus her own native sharpness and common sense, resulted in a woman whose strength of character and wry humor was admired by all her knew her well.
Even during her last illness, she relentlessly deflected questions about herself in favor of collecting and sharing the doings of Stefanie, Maddie or Sasha and the rest of the family she loved.
Mildred's only weakness was a fondness for Ohio State football, for which she compensated by her service to the District and local United Methodist Church, Gideons International Auxiliary, Fairlawn Auxiliary, Senior Center Advisory Board, and Board of Elections as a poll worker.
The family requests that memorial contributions be given to the Archbold United Methodist Church Foundation. Online condolences may be offered to the family at www.grisierfh.com. Arrangements have been entrusted to the Grisier Funeral Home in Archbold.