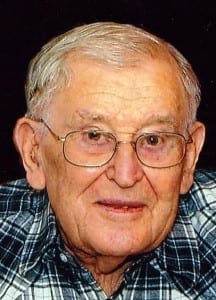 Peter D. Traxler, 94 of Montpelier died Monday morning at Hillside Country Living in Jefferson Township. He was born on October 24th 1918 in Jefferson Township to Charlie and Carrie (Wirick) Traxler.
Peter graduated from West Unity High School in 1936. He retired from the Ohio Turnpike Commission in 1983 after 29 years as a Toll Collector. Pete had also been a Madison township farmer.
He was a member and former trustee of the Pioneer United Methodist Church and a charter member of the Pioneer Lions Club.
Peter is survived by a son Thomas and wife Joan of Pioneer, two step daughters, a step son, two grandchildren David Traxler and Heather Fairchild, three great grandchildren, two sisters Donna King and Janet Lee both of Montpelier.
He was preceded in death by his parents, first wife Ferne (Krill) in 1987, his second wife Alice (Bauer) in 1996, a brother Charles, three sisters Florence Keiser, Irene Fauver and Alice Tressler.
Visitation hours for Peter will be on Tuesday, February 19th from 2-8 pm at the Thompson Funeral Home in Montpelier. A Pioneer Lions Club service will be on Tuesday evening at 6:15pm in the funeral home. Services will be on Wednesday at 1:00 pm at the funeral home with Reverend Michael Raypholtz to officiate. Interment will follow at Riverside Cemetery in Montpelier.
Donations may be made to the Pioneer United Methodist Church. Condolences may be sent online at www.thethompsonfuneralhome.com