---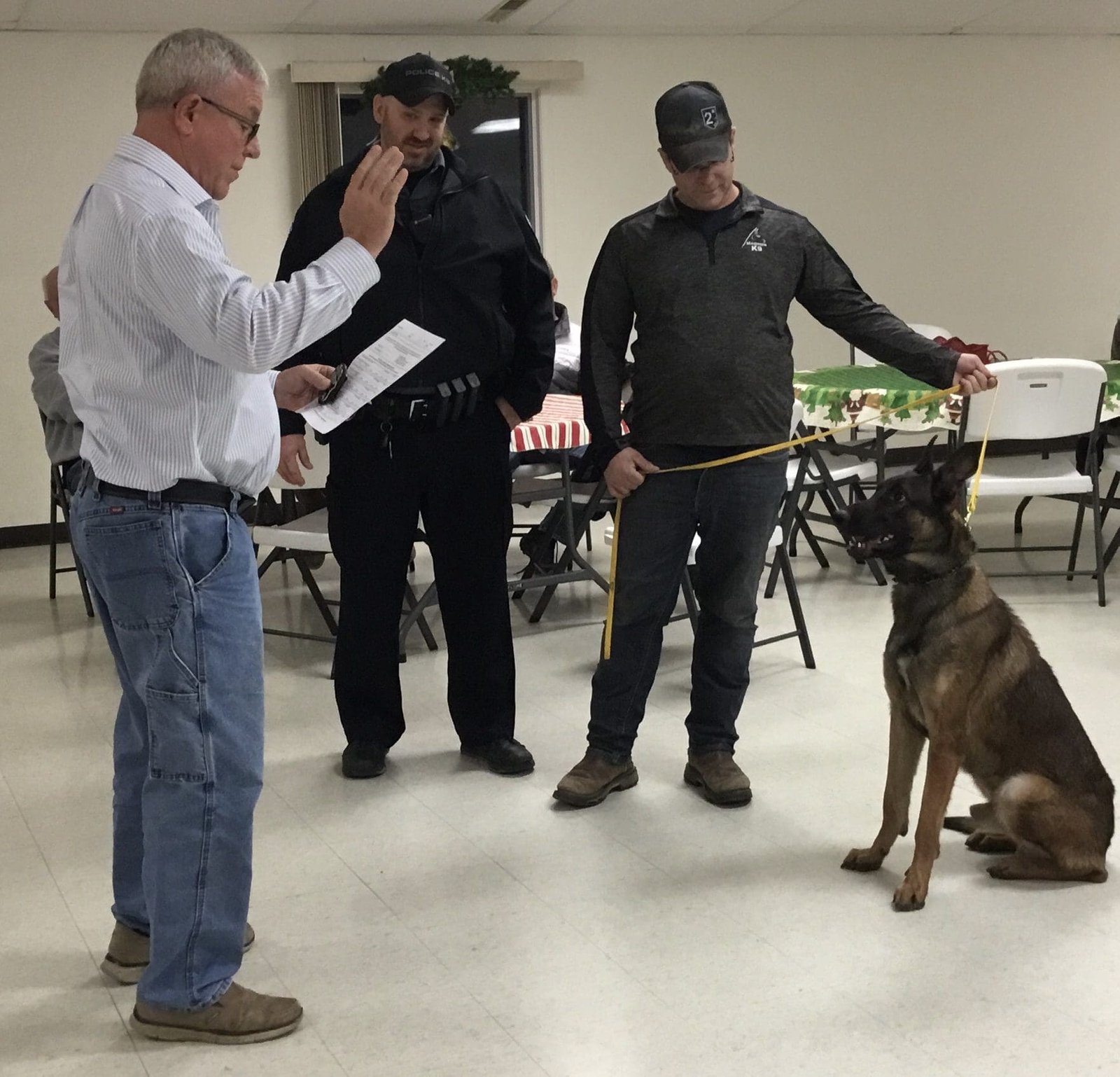 CANINE OFFICER … Vader, the new K-9 officer in Pioneer, Ohio was sworn in at the December 12, 2022 council meeting. Mayor Ed Kidston read the oath while trainer Scott LaRoe held the leash and Pioneer handler Officer Randy Mills looked on. (PHOTO BY REBECCA MILLER, STAFF)
---
By: Rebecca Miller
All over Williams County, trained dogs are joining school staffs and police departments.
Pioneer joined the ranks at the December 12, 2022 council meeting, when Vader was sworn in by Mayor Ed Kidston after the dog was introduced to council.
Vader, an eleven-month-old Belgian Malinois, comes from Mexico and was chosen by trainer Scott LaRoe from Magnum Canine out of Quincy, Michigan.
He shared that Vader is his 50th dog that he has "put into a department." LaRoe and his teenage daughter were present to introduce Vader and give a demonstration for council of his drug finding capabilities.
Pioneer Officer Randy Mills will be his handler when Vader comes to Pioneer to live.
Presently he is still in training but is getting to know Mills as the time draws closer for the switch to be made from LaRoe to Mills.
Mills was already a dog handler with another department, so he is looking forward to this opportunity to serve Pioneer in this way.
As Police Chief Tim Livengood was unable to be present, the monthly report was given by Lt. John Roberts, who following his report, turned it over to Officer Mills to introduce LaRoe and Vader.
Vader is thin and scruffy, but LaRoe said that they always come that way and he will get fattened up and healthier looking as time goes on.
He is well trained and even though he still has "puppy ways" he will be ready within a few weeks.
Mayor Kidston joined them to swear in the new officer, giving the badge to LaRoe who hung it on Vader's collar.
A short demo was also given with five boxes which held different types of things that might be found under a car seat, to show that Vader could immediately pick the one that had narcotics hiding under it.
"Looks like a good investment," Mayor Kidston said as they moved on to other business.
Council voted to approve the agenda as amended, the minutes of the last meeting which was on November 14, 2022, the financial report and payment of bills.
In his police report, Roberts shared that back in 2020 they started the process to be certified by the Ohio Collaborative and recently they received their provisional certificate for groups three, four and five.
They had already been awarded certificates for groups one and two and are now waiting for the final review to be completely certified in all aspects of the Ohio Collaborative.
Next, he informed council that the kindergarten teacher at North Central School was very pleased with SRO (School Resource Officer) Jim Snively's participation in an event at the school in which "a gingerbread man caper tore through the elementary side of the building."
According to Officer Snively, the kids just loved the program. The gingerbread man was made in the kitchen and escaped.
The kids and staff all had to help give clues to Snively so he could track him down.
The Pioneer PD started a Giving Tree this year, alerted residents on Facebook, and set the tree up in the PD lobby.
Anyone who wanted to participate in helping three local families, could go in and take a ticket off the tree.
Each one told an exact description of a gift needed, and all the tickets have been taken.  Gifts are starting to be turned in at PD and they will be given to the three families.
The families were chosen from names provided by the school or Cops with Kids.
Fire Chief Denny Fackler reported that they had nineteen calls in the past month and showed council some blueprints of the new building which will house the fire department and council chambers.
Kidston said that the shell has been erected and in January they will revisit the cost of getting the rest of it finished.
Village Administrator Al Fiser reported that the riprap is ready to go in the spring on both sides of the creek.
The cost for the village will be manpower and the rent of an excavator. He mentioned the financial report, stating that "an extra million" was invested in four different banks with CD's for 3.5% interest instead of the .5% they were getting.
He also covered the substation line of credit, saying that it has renewed with a continued reduced rate.
For the next portion of the meeting, Mayor Kidston left the room and President Randy Cochran took over for the Kexon Drive change order discussion.
Fiser explained that the change order was in the amount of $29,873 They had put in a road a year ago, adding more base and improving the road.
This is the second change order and there will be a third one which will show the total project has been reduced since they went from a concrete road to a black top.
Councilor Bill Turner asked if the ramp that was built there is on village property or AquaBounty property.
He passed around a picture of the property with the ramp shown in the picture. Fiser said that the engineer and site engineer said it was necessary and yes, it is village property, but was needed.
Turner said it appears to him that the village is putting something in on AquaBounty property and it should be their obligation.
Fiser said they have used about $130,000 of the $160,000 that AquaBounty put in a fund for these things.
Councilor Traci Filson clarified with a question that this is responsibility of the village to put in the ramp to access their property off of a village road, and Fiser said yes.
Village Solicitor Tom Thompson said that the village's right of way goes past the utility poles, up to the property line.
There was also some discussion on the road being lower than all the property around and Fiser said that the drainage has been done and 50% of the project is done.
A motion was made to increase the contract by 365 days and increase the contract by $29,873, with Turner voting no and all others voting in favor of the motion.
Kidston rejoined the meeting after the motion passed. He asked for and received approval of the Holiday Schedule for 2023.
He hared with council that he was able to get a grant for Cedar St., the mayor said that it is for around $300,000 and he has available a couple thousand in zero interest loans.
He is also applying for one that would be $500,000 and if they get that one, they will not need to get the loans and they could also do Dearborn East as well as Cedar.
Council voted to approve:
Ordinance 11-2022 to set wages for 2023 and declaring an emergency
Ordinance 14 requesting permanent appropriations for 2023 and declaring an emergency.
With no further business the meeting adjourned at 7:43 p.m.
Rebecca may be reached at rebecca@thevillagereporter.com.
---