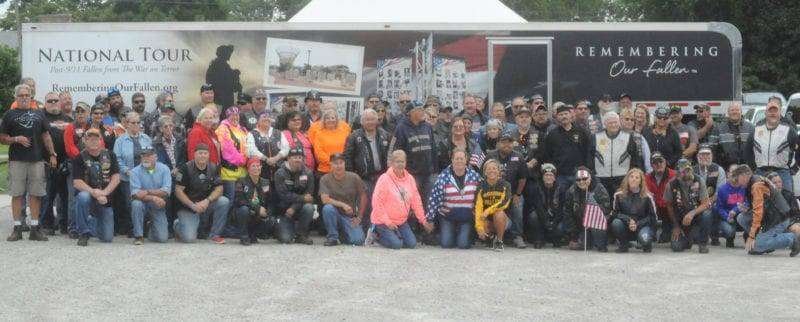 PHOTOS BY TIMOTHY KAYS, STAFF
---
By Timothy Kays
On the afternoon of September 6, the sound of a 69-motorcycle escort roared through downtown Montpelier like thunder reverberating across deep canyon walls. These bikers, representing members of the Junior Wyse Post #669 American Legion Riders, the Nozzlemen MC, the Fire and Iron MC, the Black Sheep MC, the Bryan Eagle Riders and the CMA, joined with local and county law enforcement units in an honor escort for the traveling Remembering Our Fallen Tribute Towers, which will be housed inside the Veterans Memorial Building during the Williams County Fair from September 7-14.
Arriving at the east gate of the fairgrounds, the escort, led by Williams County Sheriff Steve Towns in the WCSO Humvee, turned in and passed underneath a huge American flag suspended between the extended ladders of fire trucks from the Bryan and Montpelier Fire Departments. After a brief ceremony inside the building, volunteers from the motorcyclists came forward to help unload and set up the towers.
On the morning of September 7, a special ceremony was held prior to the official opening of the display honoring those fallen during the War on Terror. Included in this ceremony was a proclamation read by Montpelier Mayor Steve Yagelski. With event organizer Tarry Eicher Fikel at his right side and Noala Fritz of Remembering Our Fallen at his left, both of which being Gold Star Mothers, Mayor Yagelski read the proclamation as, Whereas, throughout the history of The United States of America, sacrifices have been made on our behalf to enable all of us to enjoy freedom and liberty. The freedom we have today was made possible solely by the sacrifices of men and women who were taught at an early age what this meant.
Whereas, the strength of a mother, who bore the sadness of watching their son or daughter leave her shelter and pick up arms to protect all of us, is inspirational. In an effort to hide her fears of ever seeing her child again, would reach out and become involved with their local communities, church functions, school functions and various other activities.
Whereas, at times, a Mother has to face the fear when the child who left her protection to fight the good fight to protect her and all of us, never returns as a result of the sacrifice to the oath made when raising their right hand to serve and protect the borders and residents of the United States of America.
Whereas, each year the last Sunday in September has been designated as "Gold Star Mother's Day" to honor all Mothers who have lost a son or daughter who elected to provide their noble service and great service, we offer them our deepest gratitude and our most profound respect by asking for God's blessing to be upon them and their families.
Now therefore I, Steven L. Yagelski, Mayor of the Village of Montpelier, Ohio, do hereby proclaim Saturday, September 7, 2019 as Gold Star Mother's Day. I call upon all those present, all residents of Montpelier and Williams County, Ohio, to say thank you to all Gold Star Mothers for the sacrifice that their children made for us, so we could be here today.
Mayor Yagelski then presented the proclamation to Ms. Fritz, along with a key to the village as a welcoming gift.Ms. Fritz then addressed the gathering, saying, "Many people often ask me, 'How I became involved with Remembering Our Fallen Tribute Towers. I have to admit, it was nothing that I wanted, nor Tarry or any other mother. I didn't go seeking this. I didn't ask my son when he left for the military to make me a Gold Star Mom. But these towers found me, as a contributing member on the evening of January 20, 2007. It was on that evening that my late husband and I approached our farmhouse after celebrating our new library. Our village is 116 people, and the local town that opened the library is less than 4,000. We were there and we were sharing. Everybody knew that Jake had just deployed, and wanted to know how he was doing and what was going on."
"And I was sharing some of the stories that he had said. We pulled in that night, and as we approached our farm door, two men in Class A's, along with my with my youngest son who at the time was 14 stood up in the doorway. The news that we thought they might be bringing caused me to drop to my knees and my husband to begin saying, 'Noala, they'll come if he's injured. I know he's injured.' Neither one of us wanted to go through the door, but if you looked at my son Ethan's face, he told the truth, and it was not what we wanted to hear."
"First Lieutenant Jacob Fritz was raised on a family farm," Noala continued. "He was the oldest of three sons born to my late husband Lyle and I. He loved life. He knew no strangers, and excelled in both the classroom and on the playing field. He had a smile, followed by a bear hug that everyone got, and no one forgot. Jacob worked hard to reach his goal to attend the United States Military Academy, and focused much of his schooling and his athletics to attain leadership positions, preparing himself to become a leader of men. He did graduate from West Point with the class of 2005, whose motto is, 'Keeping Freedom Alive in 2005.' Shortly after that, he left for Fort Sill, Oklahoma, to attend OBC (Officer Basic Course) for field artillery. He had already accomplished Airborne and Air Assault school. He was home for the last time the Christmas of 2005.
In February, he decided to drive to Alaska. We thought he was a little crazy, but he loaded all of his stuff, sent that on its way, and off he drove. He did make it and he trained with the 25th ID (Infantry Division) PFAR, Parachute Field Artillery Regiment, to deploy in October 2006. He left on his little brother's 14th birthday. He had asked that we not come up to a send off. He said it was too far from Nebraska, and he knew that I would miss teaching, and his dad harvest. And besides, he said, the real party is going to be once he gets home." First Lieutenant Fritz was being deployed to Iraq.
"Once in Iraq," Noala continued, "…they were no longer using field artillery, so he was chosen by his CEO, the regiment CEO and the battalion CEO to move into Karbala and to train Iraqi army men to maintain checkpoints. He would call every so often and give us an update on how things were going, although one night he did call and tell us that he was at the Richardson County Sheriff's Department, and that we had cattle running down Highway 73. My husband and I flew up out of bed and you hear this deep laugh on the other end, and he goes, 'How would I know if there are cattle out? I'm clear over here!' That phone call is one that I cherish tremendously, and it always makes me smile." First Lieutenant Fritz would be stationed at Karbala, a large city in central Iraq, considered to be holy by Shiite Muslims.Continuing, Noala recalled, "Once at Karbala, things were going great, in fact so good that another officer had to come, and they were beginning to make plans to return Karbala totally back to the Iraqi army control after a pilgrimage by the Sunni Muslims later in January. I sometimes think he was having too much success, because on the evening of January 20 things changed, and changed quickly."
"At 6 pm, a convoy of black SUVs, outfitted to look like Blackwater Security, with men dressed as Americans and speaking English came through all the checkpoints with no problems, past the gates of the Joint Community Center in Karbala, stopping right outside the building with Jacob's office and the communication center. In the following 10 to 15 minutes, the SUVs emptied, some going into the communication room, others to Jake's office, where grenades were thrown, communication destroyed, men killed and injured, and Jake, another officer, and two of Jake's soldiers were taken as POWs.
---
The Shiite militia had accomplished their goal. They were going to take these two officers into Iran, where they were to be tortured and use as bargaining chips with the United States. As they moved throughout Iraq heading toward Iran, they followed what were known as rat trails, and passed through the Shiite – sympathetic towns and checkpoints. As they approached the Iranian border, the US military who had already had one helicopter down and others killed that day in Iraq, they were able to finally reach and get the information of where this convoy was and how close to the Iran border they were."
"It was at this point that the SUVs, figuring that they weren't going to get Jake and the other officer into Iran, went off the road. Jake and the others, who had all been hooded and handcuffed, were taken out of the vehicles and executed. My son is one of 13 POWs from Operation Iraqi Freedom. My late husband and I lost our oldest son. His brother Dan lost his best friend, and my youngest Ethan lost his hero."
"What you need to remember," Noala stressed, "…is that this story is no greater than Tarry's, or all the other families that you'll see in here on the towers. Our heroes and their lives will now live on within these towers. I ask you today as you stroll within the towers, that you say their names, that you pause and look at the inset picture and see the true hero that is found there. Realize they are just like the people standing with you today that you pass at work, at school, at church."
"Remember they had a choice of what to do with their lives, and their choice was to serve the United States and this great nation we call home. The Gold Star families that you see here today, or the veterans have their friends up here on the towers, take the time to ask them to share a story, to share their hero's life with you. It will do us both good. As we have traveled throughout the nation, we have been in 27 states, and we have set the towers up 63 times. Each time memories are made that make and draw closer to our hearts. The towers now number 31. On 29 of them, they have a beige background. These are those that have lost their lives in the combat zone, Iraq or Afghanistan. This is only 70% of the loss."
"We will not put pictures up until we get the information from the families or the point of contact. On that tower, one of the interesting things I think that is important is there are 110 women on there, and they were combat missions. One of the towers that you will see has a red background. This one remembers those who died in training or in goodwill missions. We call that the Stateside. And then on the blue towers, we have those that we remember that if succumb to the wounds of PTSD. In all of the towers, we see the brave and confident smile of our military in the inset picture. We then see the members of our military, loving life, family and hobbies. As some people say, it humanizes our soldiers. It is the inset picture then that shows all of that to you, and will tell you their story. They were proud to serve. They were willing to keep your freedom."
Noala made an observation that drew in the audience and tied everything together. "I always tell people to remember," she said, "…whatever the branch of service, we have two pictures. In the first, the larger picture, we asked be in a military uniform. On each one of those military uniforms, there is a nametag. There is also the branch. They always begin with US. Army, US Marines, US Navy, US Air Force, US Coast Guard. Those two letters…the United States. Those two letters…us. Us, all of us here. Remember that. There is no politics. There is no discrimination. Their nametag says 'US'. They represent all of us here, and I don't want us to ever forget that. These men and women…are my kids. I've learned so many stories, and I cherish each and every one of them and enjoy sharing their lives with you. I can't say it's always an easy task. Yesterday watching Tarry hang her son's banner was tough, but it's reassuring to know that they will never be forgotten, and their bravery always remembered."
"So in closing, Tarry and your crew, thank you. Thank you to Perry Marvin (from the Junior Wyse Post #669 American Legion Riders), and all of those of you who escorted us in and helped to set up. To those who have served or are currently serving, my words don't seem enough when saying thank you, but I do offer you my heartfelt thanks. And I thank you as well as thanking your families for what you have done, and what you continue to do without hesitation to keep our nation free. I also want to thank Rick, my fiancé, for going on this journey with me and my two sons, Major Dan Fritz serving as an active Guard Reserve in Nebraska and First Lieutenant Ethan Fritz, currently a basic training officer at Fort Sill. Both of them have been deployed twice."
"I draw my strength from my task from my faith, my family and the awesome guardian angel, along with his brothers and sisters in the arms that are always with me. A big thank you to all of you here for taking the time to listen; a time to honor the fallen heroes. May God bless you, and may God continue to bless the land of the free because of the brave."
Bob Clark, the Blue Star Banner Chairman for Junior Wyse Post #669 of the American Legion, came forward, and in a surprise ceremony presented Noala with the Double Blue Star Banner in recognition of Major Dan and First Lieutenant Ethan Fritz, and the Gold Star Banner in honor of First Lieutenant Jacob Fritz, along with the accompanying certifications and decorations.
"I purchased my own Blue Star Banner and my own Gold Star Banner along when we lost Jake," Noala said later. "And today, to have them actually presented along with the certificates, was overwhelming. It meant so much to me that someone else recognized that I was a blue star mother instead of me having to say it; they recognized me, and recognized my sons. The gold star, you know…if you look at it, it's an embroidered gold star that's laid upon a blue star. His active duty…and now it's no longer and his sacrifice, and that that was extremely moving to me.' "That's now going to have a special place to be hung in my house. That was wonderful; it was great. Tarry was wonderful in what she's done, and to be presented a key to the city; all of this…this is small town, patriotic America right here. This was our 63rd time we've set it up…I've never had these presentations ever before. Montpelier, you did very, very well."
Timothy can be reached at tim@thevillagereporter.com
---