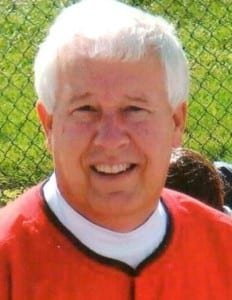 Richard A. "Rich" Batdorf, age 67, Wauseon, passed away on Tuesday, June 9, 2015 at Mercy St. Vincent Medical Center in Toledo surrounded by his wife and children. Rich was born on May 4, 1948 to John C. and Velma (Irwin) Batdorf in rural Wauseon. He proudly attended York School in his early years and then went on to graduate from Wauseon High School as a member of the class of 1966. After graduating from BGSU with a degree in accounting, Rich joined the firm of Arthur Andersen in Indianapolis, Indiana. In 1971 he married his high school/college sweetheart, Susan Oyer, and they returned to Wauseon where Rich became a CPA and partner in the accounting firm of Penrod and George. Years later, as the firm moved out of town, Rich, with his strong allegiance to Wauseon, opened his own CPA firm.
With a strong desire to serve his community, Rich engulfed himself in activities. He served on the city council, Homecoming committee, Cruise Night committees, and Ironwood Golf Club board of directors. He was a Rotary President and Paul Harris Fellow, Homecoming Grand Marshall, Wauseon Development Committee member, the Wauseon Downtown Association member, Tournament Director for the Jon P. Spiess Memorial Collegiate Golf Tournament, Elks officer and member of the Fulton County HeartRadiothon board of directors. For many years he served as the auditor for the annual Wauseon Homecoming Queens Pageant. He attended the former Wauseon Evangelical Mennonite Church, now Crossroads Evangelical.
Anyone who met Rich, soon heard of his love of sports and support for local and college teams. As INTV sports director, he broadcast numerous area games and tournaments. He was part of the stadium broadcast duo each Friday night at the Wauseon football games. He also proudly represented INTV on the field at his beloved OSU football games.
However, Rich held family as the dearest of all. He and Susan celebrated 44 years of marriage together and were blessed with two children, Stacia and Tyson, and five grandsons, who were the light of his life. Family times were so special to him.
Rich is survived by wife Susan, daughter Stacia Radabaugh of Wauseon, son Tyson (Shana) of Toledo, grandsons Jaxon and Trygg Radabaugh, Archer, Carter and Dexter Batdorf, brother James Batdorf, brother and sister-in-law Doug and Joyce Oyer, numerous cousins, nieces and nephews as well as a special group of golf buddies.
Visitation will be held from 2:00 P.M. until 8:00 P.M. on Sunday, June 14, 2015 at Crossroads Evangelical Church in Wauseon. A Celebration of Richard's Life will be held at 11:00 A.M. on Monday, also in the church, with Pastor Matt Boyers and Pastor Tyler Quillet, officiating. A private family interment will precede the service at the Wauseon Union Cemetery. The family requests that memorials be made to the Fulton County HeartRadiothon, INTV, Hands of Grace Faith in Action or charity of the donor's choice. Online condolences ay be offered to the family atwww.grisierfh.com. Edgar-Grisier Funeral Home in Wauseon has been entrusted with arrangements.