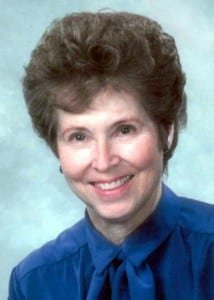 Ruth M. Schaffner, 87, of S. Fayette St., Fayette, died Wednesday evening, January 30, 2013, at The Waterford at Levis Commons in Perrysburg, OH, where she had been a resident since August 2012. She was born November 13, 1925, in Wright Township, MI, to the late Estel and Alice (Prickett) Brandeberry.
Ruth was raised in Waldron, MI, and she was a graduate of Waldron High School. She furthered her education at Siena Heights College and Adrian College, where she earned a B.A. in Business education. She settled in Fayette in 1963. She worked for several years as a teacher for the North Central school district in Pioneer. After her teaching career, Ruth worked for the Ohio Turnpike Commission as a toll collector for nearly 20 years.
Ruth was active in her community, serving for several terms as a member of the Gorham-Fayette School Board, and was an avid supporter and volunteer for the Fayette Opera House. More recently she was a member of the Fayette chapter of the Red Hat Society, and a long-time member of the Fayette United Methodist Church. Ruth enjoyed traveling, reading, and playing bridge.
Surviving Ruth are her two sons, Scott (Barb) Schaffner of Galena, OH, and John Schaffner of Fayette; three daughters, Nona Schaffner of Tallahassee, FL, Susan (Jeff) Lowry of Perrysburg, and Joyce (TJ) Kelly of Westlake, OH; two sisters, Madeline Stieg of Grand Rapids, MI, and Joyce Bishop of The Villages, FL; and three grandchildren, Katie Lowry, and Kevin and Chris Schaffner.
A memorial service for Ruth is planned for Saturday, April 27, 2013, at 11:00 a.m. at the Fayette United Methodist Church with Pastor Katherine Currier officiating. A luncheon will follow. Interment will take place at Waldron Cemetery.
In lieu of flowers, the family suggests memorial donations in honor of Ruth to the Fayette Opera House.
Arrangements were entrusted to the Eagle Funeral Home-Barrett Chapel in Fayette.
Friends can send condolences to Ruth's family online at www.eaglefuneralhomes.com.