HONOR GUARD … Members of the Honor Guard walk to Union Cemetery down Elm Street to begin the Memorial Day proceedings. (PHOTOS BY JACOB KESSLER, STAFF)
---
By: Jacob Kessler
Today is Memorial Day, and we all celebrate this day to honor the men and woman who sacrificed their lives for each and every one of us, so that we can enjoy the freedoms that this country provides to us.
Unfortunately, those who sacrificed everything to give us that, are not able to be here to experience what their sacrifice bought.
They are however, in many ways, able to spend the day with us in our remembrance of them. So, on this Memorial Day of 2022, that is what we did. We remember them, and their sacrifice.
Memorial Day is and has been known by many names. In Britain and Canada, it is known as Remembrance Day. In France and other countries, it is known as Armistice Day.
In the United States, it was originally known as Decoration Day in the 1860's after the Civil War. Americans in towns across the country began holding celebrations to give thanks to those who had lost their life during the war.
They would also decorate graves with flowers and would hold prayers. The memorial caught on and in 1868, General John A. Logan called for a nationwide day of remembrance to be held on May 30th.
Decoration Day continued to be observed and following World War I was changed to include all military personnel who had died in all wars.
In 1968, Congress created a holiday for Memorial Day which changed the date from May 30th to the last Monday in May. The day of Memorial has continued ever since.
The City of Wauseon has continued this tradition. This year, on May 30th, residents came to the streets to see the parade head down Elm Street to the Union Cemetery.
There, members of the Fulton County Honor Guard posted the colors and began the Memorial Day proceedings. The Wauseon High School Marching Band played the Star-Spangled Banner, and everyone placed their hand over their heart for the Pledge of Allegiance.
Reverend Maryann Reimund gave the Invocation and Benediction, and the Wauseon High School Chorale sang "In Flanders Field". Don Krieger also spoke as the featured speaker for the day.
---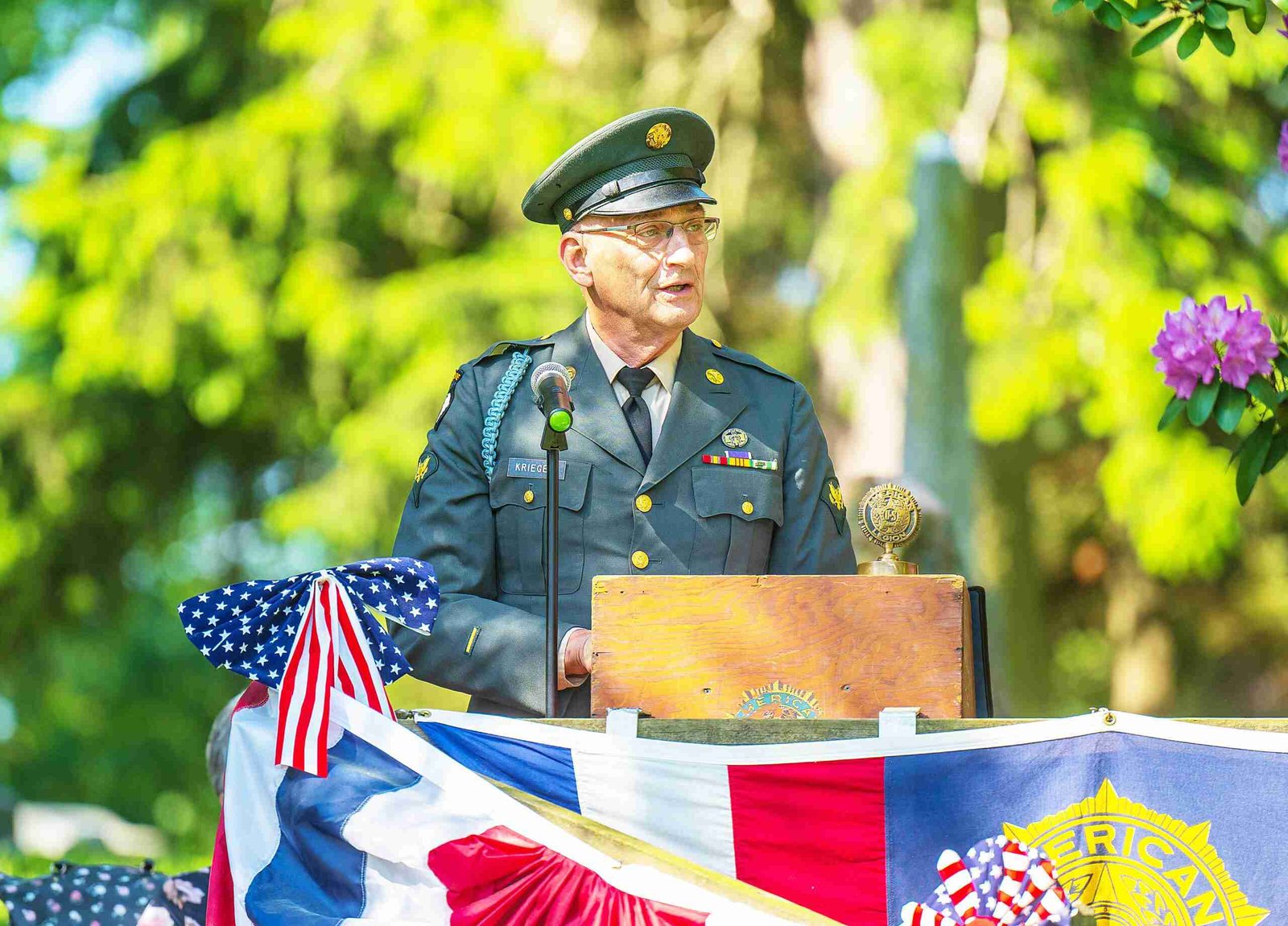 DON KRIEGER … Vietnam Army Veteran Don Krieger, who was the guest speaker for the program, spoke to everyone about Memorial Day and a personal story of his while in the military.
---
Mr. Krieger spoke about Memorial Day and his experiences in the Army while serving in Vietnam. "Some days I look across these places, and I wish just once more that we could hear the voices of those who are entombed here."
"Each one of them would give us a story. Each one would be unique. Each one would be individual. But each one I am sure would carry one common theme. That they are proud to have served and to have sacrificed so that we might be free."
A three-volley rifle salute was done along with taps being played by members of the Wauseon Marching Band. Closing of the ceremony then took place with everyone leaving to continue the celebration of Memorial Day.
This celebration took place at a cemetery. There are many around the country and the world with American soldiers resting there. It is also important to remember those who gave everything and are at rest in an unmarked grave.
"It's not about the people that came home. It's not about the people that are serving now, it's always about those who did not. Those who made the ultimate sacrifice. In all battles and all wars."
"You look and you see a lot of the cemeteries with the flags and what a lot of people also don't remember, and I remember this by being in the Navy, there's a lot of unmarked graves out there."
"You can't put a flag on a body of water. But this is all about those who made the sacrifice so that we can be here today to remember them," Master of Ceremonies Terry Estel.
Jacob can be reached at jacob@thevillagereporter.com
---