---
MEET THE OWNERS … The store was founded in 2014 by Kathie McClarren and Viola Coblentz. (PHOTOS BY AMY WENDT, STAFF)
---
By: Amy Wendt
The Brown Bag Market is a unique store located in Wauseon, that specializes in selling bulk foods, meat and cheese, and other specialty items. The store was founded in 2014 by Kathie McClarren and Viola Coblentz.
Kathie, the mother of four children, moved from Colorado to the Northwest Ohio area 35 years ago after marrying her husband, Brian to raise their family.
For many years, she operated a quilt shop, along with her mother in the very same building that the Brown Bag Market now occupies.
Viola, an Iowa native, moved to the Wauseon area from Holmes County, Ohio in 2010 after her husband Glenn received the call to pastor the North Clinton Church in 2010.
Shortly after moving to Fulton County, Viola, the mother of four, searched for a bulk food store and was surprised to there was not one in the area because, in Holmes County, bulk food stores were quite common.
Her husband suggested that she open her own store, a notion she did not take seriously at the time because she had no experience in working in a store much less running one.
After Kathie's mother retired and closed her quilt shop, Kathie and Viola joined forces and together, they embarked on a journey to start a business with a mission "to bring something unique and authentic to the community of Wauseon."
"We saw the need for a store like this in Fulton County and we do feel like it's been very well received," noted Viola.
While the Brown Bag Market is of course known for its bulk items, it offers so much more. According to Kathie, the deli is the largest part of their business and they feature primarily Troyer meats, a company that originated in Holmes County, Ohio.
---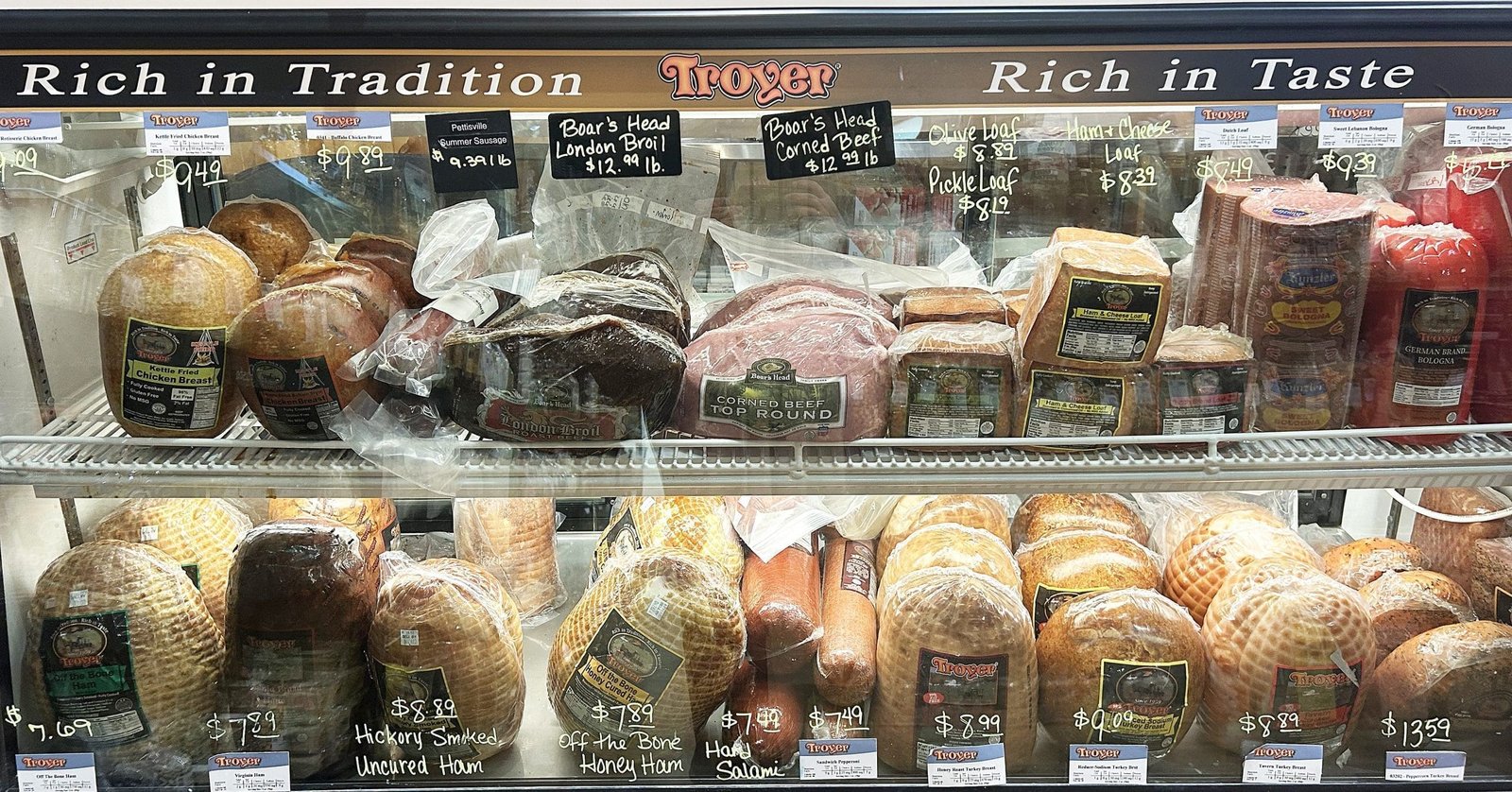 SAY CHEESE (AND DELI MEAT) … The meat and cheese area features primarily Troyer products out of Holmes County, Ohio.
---
For the duo, carrying quality products made by smaller, local companies is clearly a priority.  The store has a diverse selection of refrigerated goods, spice mixes, jarred goods, jerky, and candy made by Ohio businesses such as Walnut Creek, Amish Wedding, Garlic Expressions, Willy's Fresh Salsa, Pettisville Meats and Marsha's Buckeye's, just to name a fraction of what the store carries and companies they support.
When speaking of the quality of their products, Kathie clarified jokingly, "We're obviously not a health food store."
However, it was her opinion that many of the companies who provide food items for the store try to avoid MSG and fillers if at all possible which is especially important to those who suffer from allergies or other food intolerances.
Recently, things got a little busier at the store when they decided to offer to-go lunches. The menu varies but generally features a variety of hot sandwiches, including paninis, Italian melts, and Rubens.
The Brown Bag Market also offers on-the-go box lunches for businesses and other organizations.
With the bountiful selection of quality food items at the store to choose from, The market also offers made-to-order gift baskets for all occasions for pickup.
Kathie and Viola's bulk food store is a unique place to shop. They offer a variety of quality local and Amish brands, strive to offer top-notch customer service, and are willing to go above and beyond to help their customers find what they are looking for.
The Brown Bag Market, located at 14707 County Road J, Wauseon, is open from Monday through Friday from 9:00 am to 5:00 pm, Saturday from 9:00 am to 4:00 pm, and it is closed on Sundays.
Amy can be reached at Amy@thevillagereporter.com
---